Rain, rain, go away: softball games get rained out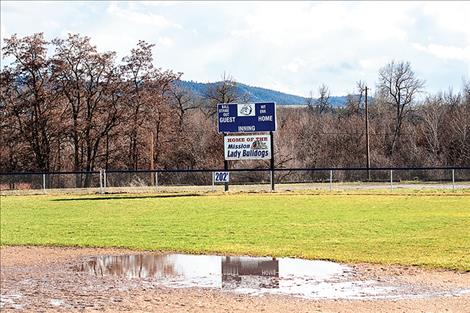 ST. IGNATIUS – With field conditions last week more suited for a bass-fishing tournament than a girls' high school softball game, the Mission-Arlee-Charlo (MAC) Lady Bulldog's 2019 season home openers against the Eureka Lady Lions and Libby Lady Loggers were scrapped, rescheduled and relocated due to the field being underwater from recent heavy rains and melting snow.
On Thursday, the Lady Bulldogs traveled up north to Libby to take on the Lady Loggers, who held off a late MAC charge in the bottom of the seventh to preserve a 5-4 nonconference home win. The Lady Bulldogs scored four runs on eight hits. Azia Umphrey paced the Lady Bulldogs at the plate going two for four with two doubles, while Courtney Mitchell hit a two-run home run.
In a Western B conference doubleheader with the hosting Eureka Lady Lions on Friday, the Lady Bulldogs fell in game one 12-3 before winning game two 18-2. Olivia Garland went two for three at the plate for the Lady Bulldogs as both Taylor Olson and Mitchell each had a double.
In game two, MAC used an eleven-run first inning to pick up their first win of the young season. Lady Bulldog Caitlyn Sorrell had a double and an RBI on two hits, while Frankie Smith notched her first win in the pitcher's circle.
The Lady Bulldogs moved to 2-2 on the season with a 15-7 road win at Loyola on Saturday. The MAC bats scored 15 runs on 17 hits. Shayanne Reum was the winning pitcher for the Lady Bulldogs. At the plate, Umphrey had four RBIs on three hits. Liev Smith had two RBIs on three hits. Weather permitting, the Lady Bulldogs will be back in action at 4 p.m. on Thursday when they host Florence.