Polson business donates washer, dryer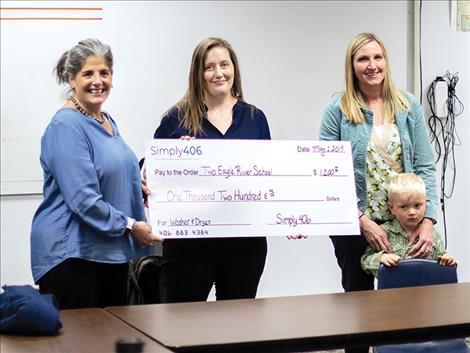 POLSON – Simply406 donated $5,200 to the Polson School District and Two Eagle River School for the purchase of washers and dryers for their buildings. TERS received $1,200 and Polson was given $4,000.
According to the press release, after hearing that the lack of access to clean clothes was a factor in increased absence rates at schools across the country, Simply406 reached out to the various Mission Valley schools, inquiring if this was a challenge they faced and if they could help.
Simply406 general manager Heather Knutson-Walter addressed the TERS board on May 1. "For us, this means a lot," she said. "There was a need in the community that we love, and we are happy to help in any way we can."
Knutson-Walter stated in a press release that Country Pasta, a company within Simply406, is community orientated. "Ever since Country Pasta was started here in Polson in 1990, we have always believed in supporting our community," she said. "Now that the company is growing to include other brands, like Tipu's Chai, we will look to continue this support as the whole Simply406 company. And investing in our youth is definitely something we believe in."
It has been an exciting couple of months for the Polson-based business. Simply406 announced its official launch as the parent company of Country Pasta and Tipu's Chai, which are two local food companies.
"While both products have been under the same roof for eight years, formally putting them both under the same organizational umbrella of Simply406 was the right move to strengthen our core values internally and have a more unified organization externally, which we will use to guide the company in the future as we continue to grow," said Amy Kellogg, co-owner of Simply406 in a press release.