Cherry Festival time in Polson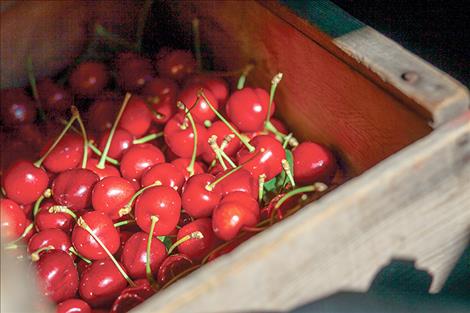 POLSON – Everything's coming up cherries in Polson as the Flathead Cherry Festival returns this weekend.
The festival, which draws thousands of people to the Mission Valley every year, is an iconic event that organizers say is a longtime favorite among area residents and visitors alike.
The annual family-friendly festival that celebrates Flathead cherries and the cherry industry gets underway in the middle of downtown Polson from Saturday, July 20, to Sunday.
Festival goers will be able to enjoy locally grown cherries, live music, entertainment and kids' activities while browsing more than 75 booths and shops located along Main Street.
Starting at 2 p.m. on Saturday, the slobber-flying fun at the cherry pit spitting contest begins along with the cherry pie-eating contest. Both events are held in front of the Cove Deli and Pizza.
The musical guests this year are Man and the Box, who will perform on Saturday from 10 a.m. to 1 p.m., and Kelsey Fowler, who will perform from 11 a.m. until 2 p.m. on Sunday afternoon.
Food vendors will be serving up their mouth-watering specialties on Saturday from 9 a.m. to 6 p.m. and Sunday from 10 a.m. to 4 p.m. More festival details can be found at www.flatheadcherryfestival. com or call 406-883-3667.