Sherwood receives 20 years for assault, 10 for obstruction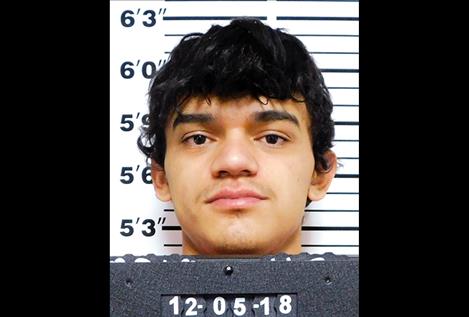 Donovan Sherwood, 19, was sentenced at District Court in Polson on Aug. 28 to 20 years in the Montana State Prison with none of that time suspended with an eight-year parole restriction.
The sentence results from an aggravated assault charge involving his 13-year-old girlfriend. The case was heard before Judge James Manley.
In another case in front of Judge Deborah "Kim" Christopher on Aug. 29, he was sentenced to 10 years in the Montana State Prison with none of that time suspended for an obstruction of justice charge stemming from his role in the death of Cassandra Harris, 24.
Sherwood had entered a guilty plea to aggravated assault during an earlier court appearance. The guilty plea came as part of an agreement that had recommended a 10-year commitment to the Department of Corrections with five years suspended.
In the obstructing justice charge, Sherwood was initially given a three-year deferred sentence but violated conditions of his probation five days later when he assaulted the girl.
Manley was not bound by the agreement. He warned Sherwood in a court appearance a week prior to sentencing that his case warranted the maximum punishment available. The judge gave Sherwood a week to decide if he would rather go to trial.
Court records show that on Dec. 4, 2018, Sherwood struck his 13-year-old girlfriend with a Twisted Tea can four or five times "causing her to become dizzy." While being treated at an area hospital, the victim told law enforcement that Sherwood also choked her to the point where she thought she would die. He also bit both of her cheeks.
During an earlier court hearing, Manley mentioned the assault incident and told Sherwood that he shouldn't talk about having sex with his victim while talking on the Lake County Detention Center's recorded phone line. The judge also referenced a recorded conversation where Sherwood talks about "putting a f***ing bullet in that white boy."
Sherwood had been charged with assaulting the 13-year-old, including cutting her fingers with scissors, prior to Harris's death, but the case was later dismissed. Lake County Attorney Steve Eschenbacher told the court during the sentence revocation hearing on the obstruction case that the victim's mother was "hiding" her as for the reason why the first assault case was dismissed.
In the matter of Harris's death, Sherwood entered a plea of guilty to obstructing justice during a change of plea hearing on Oct. 11, 2018, admitting that he lied to authorities who were investigating the death of Harris.
A group of hikers found a severely injured Harris face down on McDonald Lake Road the morning of June 23, 2018. She died as a result of her injuries days later. An intense investigation by Lake County Sheriff's Office, Montana Highway Patrol and Flathead Tribal Police led to the arrests of Sherwood, Joseph Parizeau Jr., 23, of Big Arm; Gale Hendrickx, 20, of Pablo and Julia Vaile, 19, of Browning.
The investigation also showed Harris died of injuries sustained from being shoved by a moving pick-up. The Harris family believes she was beaten to death. Harris's sister, Michelle Sharbano, stated on the witness stand that she saw her sister lying in the hospital bed and read the autopsy report. She said the report showed Harris died of "multiple blunt force trauma."
Parizeau and Vaile were both convicted of crimes for their involvement in Harris's death. Parizeau was sentenced to a straight 10 years in the Montana State Prison with none of that time suspended on a criminal endangerment charge from a plea agreement that Parizeau thought was in his best interest. Vaile got a six-month suspended sentence for careless driving.