Lady Vikings, Lady Pirates head to state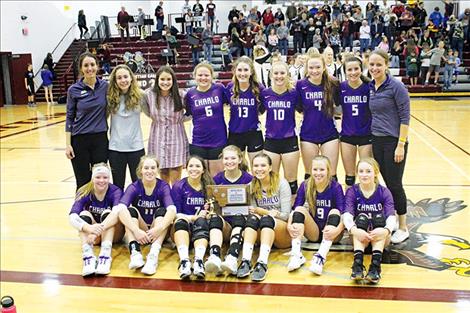 The Polson Lady Pirates and Charlo Lady Vikings volleyball squads each clinched bracket spots in the upcoming girls Class A and Class C state volleyball tournament held at the Brick Breeden Field House in Bozeman starting on Thursday.
After falling in straight sets to the Gardiner Lady Bruins 3-0 in first-round action at the Western C Divisional Tournament in Manhattan this past weekend, the Lady Vikings battled their way through the loser-out brackets into the tournament's championship game on Saturday.
"A tough loss against Gardiner in the opening round lit a fire in my girls," said Lady Viking head coach Rhondell Volinkaty. "We tend to take the hard way as much as possible. After that loss, they came together as a team and played some incredible volleyball. It takes a lot of heart to come back and win four games to punch a ticket to state."
On Friday, the Lady Vikings defeated the Clark Fork Lady Mountain Cats 3-0, Ennis Lady Mustangs 3-0 and Hot Springs Lady Savage Heat 3-0, setting up a Saturday morning semifinal rematch with Gardiner.
The Lady Vikings advanced into the Western C championship game by defeating Gardiner 3-1.
Against the tournament host Manhattan Christian Lady Eagles, the Lady Vikings fell 3-1 for a Western C Divisional second-place tournament finish and their first trip to the Class C state tournament since 2006.
"Although the championship didn't fall in our favor, I couldn't be prouder," said Volinkaty. "This team is full of a tremendous amount of talent, which has been fun to watch and coach."
On Thursday in Dillon during the Western A Divisional game, the Lady Pirates opened the tournament with a 3-2 win over the Dillon Beavers but fell in an evening matchup to Corvallis 3-0.
The Lady Pirates rebounded in the consolation brackets Friday with a 3-1 win over the Stevensville Lady Yellowjackets. In a quarterfinal matchup, the Lady Pirates claimed fourth place and a spot in the state A tournament with a 3-1 loss to Butte Central.
"The last time Polson made it to state was in 2011," said Lady Pirate head coach Lizzy Cox. "These girls have put in so much hard work since the 2018 season: playing club volleyball in the winter/spring and training with Melinda Owen this summer. They were able to reach one of their goals this season by earning a bid to the 2019 state tournament."
The Lady Pirates will open Class A state volleyball tournament action at 10 a.m. on Thursday against Billings Central. In Class C state tournament action, the Lady Vikings will face Fort Benton Thursday at 4 p.m.