Mission Valley Live features fiddle artist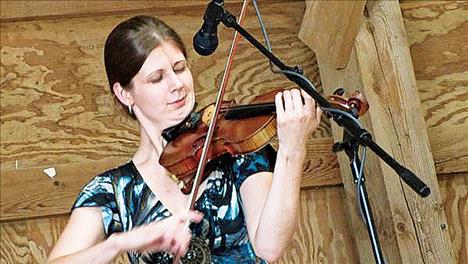 You might say fiddle music is in Mari Black's blood.
The Boston native picked up the fiddle when she was 4 or 5 years old and living with her parents in Portland, Maine. Her family was befriended by a French Canadian champion fiddler, and well, the rest is history.
Black will bring her own champion fiddle music to the Ronan Performing Arts Center on Nov. 22 for a concert presented by Mission Valley Live. Admission to the 7 p.m. performance is free to students under 18. Adult tickets are $12 in advance at R&R Health Care Plus in Ronan and in Polson at True Value Hardware, First Interstate Bank and Perfect Shot Tavern. At the door, tickets will be $15.
The show Black will perform in the Mission Valley is "Fiddle Around the World," which showcases dance music, bluegrass, swing and jazz, and includes a stand-up bass and acoustic guitar.
"My criteria is – does it make you want to dance?" Black said in a telephone interview from her home in Boston.
Black recounted the excitement she felt when she first heard catchy French Canadian dance music. When her parents finally felt she was old enough to play the fiddle, Black filled her days practicing.
"I don't remember not playing the fiddle. If I saw two objects laying around, I would fake like I was playing a fiddle. Then, when I was 8 or 9, I got serious."
Often practicing eight or nine hours a day, Black honed her skills and began to make her mark. It paid off. She has been named "one of the brightest fiddlers performing today" by WGBH Radio. Her energetic style and bright stage presence has been a big hit in the U.S. and abroad. Black burst onto the international stage when she became Scotland's Glenfiddich Fiddle Champion, a two-time U.S. National Scottish Fiddle Champion, and a two-time Canadian Maritime Fiddle Champion, all within a three-year period.
Black said the violin is such a versatile instrument that she could never get tired of playing it.
"I think it's more the voice of the violin, the timber and the range that I love," she said. "I like trying to get the fiddle to sound like something. I can play jazz music or imitate a saxophone. Really, you can do anything with it."
While in the Mission Valley, Black also plans to work with area students in St. Ignatius.