Girls' empowerment program seeks leader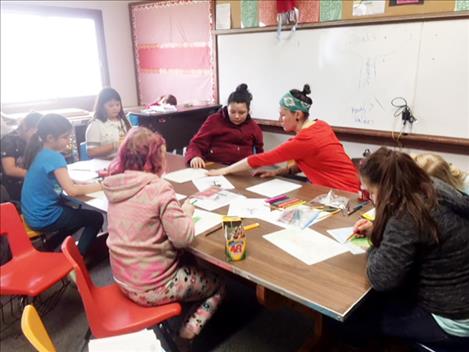 ARLEE – Lunchtime meetings at the Arlee School District give girls and non-binary youth an opportunity to explore their unique strengths. Using Their Strength is a program facilitated by the YWCA of Missoula. The program has existed in Missoula for over 20 years. Two years ago, it was established in Arlee.
GUTS! Expansion coordinator Jessika Eiskant said young women and non-binary folks face specific challenges when it comes to recognizing their own power and leadership ability.
"The way young women and girls are often portrayed in society can be toxic and can manifest in holding value in physical looks," Eiskant said. "We're seeing what we can do to hold space to honor everyone's strength."
In the past, the program has focused on students in fourth through sixth grades. Students explore their own strengths through activities like a "power show and tell." In that activity, participants share an object or story that they feel conveys their strength outside of physical ability. Students also do crafts and other activities that help them identify their strengths and leadership abilities.
In addition to developing their own sense of strength, students channel that strength into a service project for their community. In 2018, the strength project resulted in the facilitation of a recycling program in the school district. Roe Erin, GUTS! program manager, said school faculty have heard positive responses from Arlee students about the project.
The YWCA staff is looking for two local individuals to lead the Arlee program. Facilitators will structure the group's sessions and lead discussion and activities. The commitment is for two to three hours per week for 10 to 12 weeks. The position is paid.
Eiskant said the most important quality in a GUTS! leader is a close understanding of the Arlee community. A Native American leader would be able to relate to the majority-Indigenous population of the Arlee school district.
Eiskant's favorite part of the program is that it focuses on each student's unique strengths.
"The opportunity to connect with your peers and the larger community is special," she said.
Those interested in applying to lead the group can find more information at YWCAofMissoula.org.