Gordon sentenced to 20 years in storage unit theft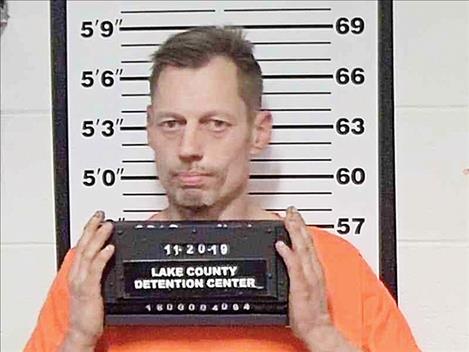 A third co-defendant in a Bigfork storage unit theft has been sent to the Montana State Prison for a total of 20 years with 14 years suspended.
Richard Gordon, 50, was given 10 years with seven years suspended for theft and 10 years with seven years suspended for money laundering. He was also ordered to pay restitution of $1,038,035.
Joshua Wilson, 39, of Kalispell, was sentenced at District Court in Polson on Oct. 9 to the Montana State Prison for 10 years with six years suspended for one count of theft. Robert Earl Staudenmayer, 33, of Bigfork, was sentenced on Sept. 11 to 20 years in the Montana State Prison for theft and money laundering.
All three men had their cases adjudicated before Judge James Manley, and all three are facing charges in other jurisdictions.
According to charging documents, the Lake County Sheriff's Office received a report of a break-in at the self-storage unit in the Bigfork area on June 1. The victim, a retired pilot who served as a fighter pilot in WWII, said he had not checked his storage unit since the fall of 2017, and now, he is missing more than $300,000 in gold bars, coins, artwork and guns. A safe was also taken from the storage unit.
On June 21, Lake County Under Sheriff Ben Woods received a call from a company called Leads Online about a stolen gun. Leads Online is a technology service that helps law enforcement reunite stolen items with their rightful owners. In this case, the owners of a pawnshop in Kalispell used Leads Online to identify a gun that was taken from the Bigfork area storage unit.
Records at the pawnshop showed a woman by the name of Kristen Kliev (Staudenmayer's common-law wife and also known as Cattaneo) pawned the gun. Kliev pawned another gun that she later repurchased from the pawnshop. On June 25, Woods learned that Straudenmayer traded one of the stolen guns to a John Gabrielson for a Jeep. Gabrielson told Woods that Staudenmayer claimed to have more guns he wished to sell.
Woods' investigation would lead to the execution of a search warrant on Kliev's property where some of the stolen artwork was recovered. Kliev would later claim that Richard Gordon gave her the artwork to sell along with some guns.
Another search warrant was obtained for a residence on Swan River Road where Gordon was staying, and more stolen items were located there, along with two vehicles allegedly purchased with proceeds from the sale of some of the stolen items.
When asked about the artwork, Gordon claimed he found it at the dump. Gordon admitted that he sold gold to a coin collector in Kalispell for $1,907.07. He said he inherited the gold from a brother who recently passed away. Staudenmayer said that Gordon told him the gold was dug up using a treasure map. Staudenamayer admitted that he and Gordon bought a trailer in Chehalis, Washington, and bought a racecar in Seattle with proceeds from the sale of gold.
Restitution for Staudenmayer and Wilson was set at $1,185,500. That figure will likely be lowered to match Gordon's because the victim has recovered some of the stolen items. Staudenmayer received the harshest sentence of the three men due to his extensive criminal record.
Gordon continued to maintain at his sentencing hearing that some of the stolen items recovered from his property were found abandoned at the dump. He also stated that he helped recover some of the victim's property and wished he could find more. Manley called Gordon's attempt at showing remorse "hollow."