Get ready for some Celtic Christmas cheer with the Gothard Sisters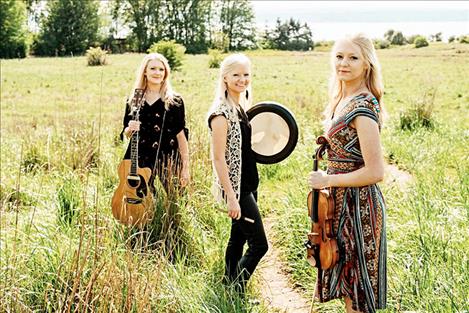 RONAN – The international touring trio, The Gothard Sisters, are bringing their Celtic Christmas Show to the Ronan Performing Arts Center on Tuesday, Dec. 10.
The show, presented by the non-profit community organization, Mission Valley Live, starts at 7 p.m. Tickets are $15 at the door.
Since touring the world for the past 10 years, the sisters, who are based in Edmonds, WA, have learned to sit back and enjoy the ride, according to the oldest sister, Greta. Speaking by phone from her home in Washington, Greta said the trio is a team project and every sister has a role.
"We get along really well; that's the only reason it has worked out for us. I think I can thank our parents for that because they encouraged us to be supportive of one another."
Life on the road has its challenges, but Greta said when you have your two best friends beside you, it's just more fun.
"We've learned to go with the flow. A lot of times, you over plan and something takes us for a big surprise. If you just go with it, it can be something great. We always tell each other, 'just keep laughing.'"
Being the oldest, Greta was the first to pick up an instrument. Their parents aren't musicians, even though music is in their family. So when Greta kept begging her mother to sign her up for violin lessons when was Greta was 5, her mother initially discouraged her. "My mom wasn't sure so she said, 'There's soccer or ballet.'"
Fortunately, her mom gave in and when Greta did so well on the violin, her sisters decided to take up the instrument as well.
Greta works as the group's lyricist, and the middle sister Willow writes the music, including their catchy fiddle tunes they have grown a reputation for. Youngest sister Solana is the multi-instrumentalist, performing on djembe, bodhran and penny whistle. Their latest album, "Midnight Sun," debuted at number six on the Billboard World Music Charts. It is their seventh album so far, and their highest charting. The sisters are also champion dancers.
The Gothard Sisters are finding their niche in the music world and enjoying seeing the world. If they weren't the buddies they are, that life wouldn't be possible.