Salois charged in strangulation case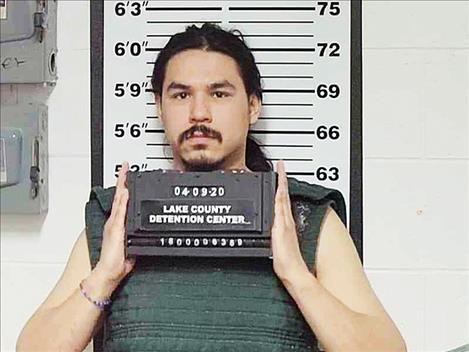 Senlin Shy Blue Salois, 28, entered pleas of not guilty at District Court in Polson on April 16 to felony charges of assault with a weapon and strangulation of a partner or family member.
According to court records, on April 6, staff at St. Luke Community Healthcare hospital in Ronan reported to Confederated Salish and Kootenai Tribal Police that they were treating a female who had been assaulted. A responding officer immediately noticed the alleged victim had bruising on her neck consistent with being strangled. The officer also observed swelling on her forehead and bruising on her hands.
The victim told the officer that Salois had held knives to her throat, tried to pull her teeth out with pliers, hit her in the head with a can of beer, banged her head against the seatbelt holder on the door frame of a car, and then, he hit and kicked her before attempting to strangle her with his hands and a knee on her neck. She said she almost lost consciousness. She also said the bruising on her hands were defensive wounds from her trying to fight off Salois.
The officer photographed and collected the victim's bloody clothes. He also documented blood inside the car where part of the alleged assault occurred. The officer also located an empty can of Steel Reserve beer, a hunting knife and a baggie of suspected methamphetamine in the car.
Judge Deborah "Kim" Christopher set bail at $250,000 and set the case for trial on July 13.