COVID-19 mass testing event continues to return negative results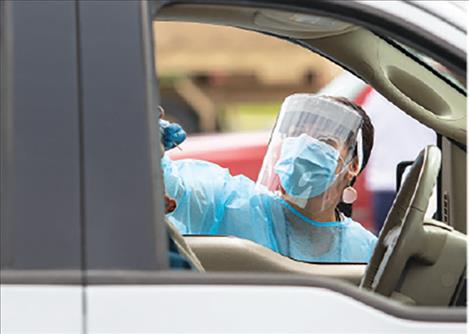 PABLO — Test results are still trickling in from the approximately 2,500 people tested during a four-day mass community COVID-19 drive-thru testing event held throughout the Mission Valley two-and-a-half weeks ago.
"Nearly 72 percent of the tests have been completed and are all negative," said Robert McDonald, public information officer for the Unified Command Center, which is a joint task force between the Lake County and Confederated Salish and Kootenai Tribes created to handle issues associated with the virus.
In collaboration with state, county and local health agencies, the UCC offered free COVID-19 testing to all asymptomatic or symptomatic members of the public in an effort to help slow the spread of the resurging novel coronavirus. According to UCC data, out of the 2,486 administered tests, a total of 1,784 tests have returned negative.
About 700 test results from the event have yet to be determined. McDonald noted that the results are being processed as fast as possible, and the UCC appreciates the public's patience as they work through getting the result letters distributed. "Rest assured, if your test came out positive, you would have heard from medical officials immediately," McDonald said.
Testing events were held June 17-20 at the Arlee powwow grounds, the Salish Kootenai College campus in Pablo, the Polson High School parking lot and the Elmo powwow grounds.
The coronavirus is still circulating, and while the negative results are a good indication that Mission Valley residents are doing their part to slow the spread of COVID-19, the pandemic continues to dramatically impact other parts of the state, region and the world. Amid a renewed surge of COVID-19 cases on both the state and national level, the UCC reiterates the importance of adhering to social distancing guidelines and wearing a mask. The UCC also urges people to wash their hands often with soap and water for at least 20 seconds or use an alcohol-based hand sanitizer if soap and water are not available.
Statewide, as of Monday, there were 1,249 confirmed positive COVID-19 cases, 548 active cases including 37 new cases since the weekend. State officials also report that 112 of the cases have resulted in hospitalizations, with 20 patients currently hospitalized and 23 deaths.
Lake County Public Health reported 12 active cases of COVID-19 on Monday with nine recovered for a total of 21 cases.
Local health officials would also like to remind the community that drive-thru coronavirus testing is a "point in time test," which means the test only determines that you did not have the disease in that moment and you could still be exposed and contract the virus at a different time.
COVID-19 affects different people in different ways from mild symptoms to severe illness. A wide range of symptoms may appear two to 14 days after exposure to the virus, according to the Centers for Disease Control. The symptoms include fever or chills, cough, shortness of breath or difficulty breathing, fatigue, muscle or body aches, headache, new loss of taste or smell, sore throat, congestion or runny nose, diarrhea and nausea or vomiting. Public health officials are asking people who are experiencing COVID-19 like symptoms or any other symptoms that are severe or concerning to request testing from their primary healthcare provider.
Both St. Luke Community Healthcare and St. Joseph Medical Center provide COVID-19 testing. Tribal Health Clinics in Polson and St. Ignatius also provide COVID-19 testing for Tribal Health recipients. Regardless of where you opt to be tested, healthcare providers ask that people call ahead to be screened and receive further guidance on testing protocol.
The UCC will be offering another free mass drive-thru testing event on Thursday, July 9, from 10 a.m. to 2 p.m. at the Hot Springs rodeo grounds in Hot Springs. Patients will remain in their vehicles, while medical staff performs a nasal swab from outside the vehicle. The swabs will be sent to an external lab to be processed. The turnaround time for the results of the swab test is typically seven to 10 days.
Those who have questions or concerns should call the UCC COVID-19 call center at 406-275-2779 from 8 a.m. to 5 p.m., Monday through Friday, or email at info@ucc-jic.com. Tribal Health also has a Coronavirus call center to take calls from Monday to Friday, 8 a.m. to 4:30 p.m. at 406-849-5798 or send questions to COVID19@cskthealth.org.