Rotary Club donates $12,500 to Polson School District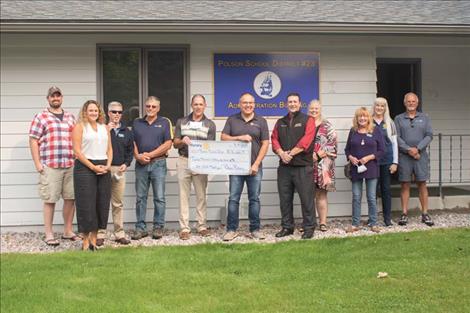 POLSON — The COVID-19 pandemic may have canceled fundraising events for many charitable organizations throughout the Mission Valley but the Rotary Club of Polson has not let that dampen their spirit of giving.
"Our fundraising has definitely been impacted," said Bret Richardson, president of the Rotary Club of Polson. "Everyone has performed over and above their normal duties to adapt."
On Sept. 15, the Polson Rotarians gave all 241 employees of the Polson School District $50 worth of Polson Chamber Bucks in recognition of their strained workloads and service to the community during the COVID-19 pandemic.
According to Richardson, the donation served a twofold purpose: to help the Polson Downtown business community and acknowledging a group of individuals who have performed exceptional service under trying conditions.
In total, the Polson School District received $12,500. The Rotary Club also donated $8,000 to the Polson Boys and Girls Club in support of new equipment for the gymnasium.
Richardson said local Rotarians usually raise about $25,000 each summer for various Mission Valley youth projects through a raffle and chili cookoff event. The COVID-19 pandemic forced a cancellation of the event this year, so last week's distributions came in part from reserve funds as well as additional contributions from Rotary members.