Fishing goes well in fall weather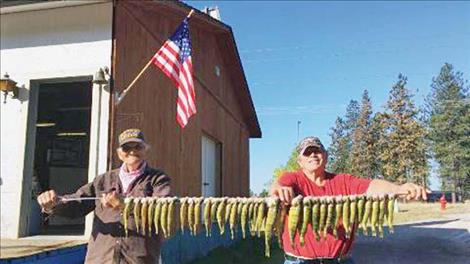 News from The Macman
Fishermen: How pleasant has this fall been? The warm water fisheries continue to produce catches of bass and pike. Kicking Horse, Ninepipes and Pablo Reservoirs have all had active fisheries all fall.
I'm looking forward to ice fishing. With waterfowl season ending at the normal time, it can be late relative to when ice is formed on these reservoirs. It would be nice if we could depend on the fish and game people to use a little common sense and open them as soon as ice conditions are safe.
In the meantime, other opportunities are available. On Friday, Oct. 2, we fished the southwest corner of Elmo Bay, near the town of Elmo, for Perch. Because of a full moon and high-pressure, conditions haven't been optimum for good fishing. We found the fish hesitant to hold and take in a bait, so by fish activity standards, it was a poor day, nonetheless, we hooked and landed an impressive stringer of perch. In the past, I've caught perch here until the end of November. I predict that this fishery will steadily improve for at least the next month.
We took home 40 perch in poor fishing conditions, and in good conditions, a cooler full is likely. Now, there will be large pike minnows mixed with the perch later on, and as waters cool, there'll be Lake trout in the mix.
One of our two hook setups with a bottom weight baited with either nightcrawlers or cut perch will be adequate. The magic depth is 36 feet.
As is normal for this time of year, Lake trout are moving into shallow water preparing to spawn. They will be anywhere from depths of 180 to 25 feet. The shallower fish will often respond best to trolling or spin casting, and deeper fish can be taken with jigs.
Lake Mary Ronan has been drawing unusual numbers of perch and rainbow trout for this time of year. For more information, email us at macman@ronan.net. Call us at Zimmer Tackle: 406-675-0068 or call my personal cell at 406-250-0241. Check out our website at www.zimmertackle.com.
Good Fishing
The Macman