MVCA Eagles take second in soccer league tourney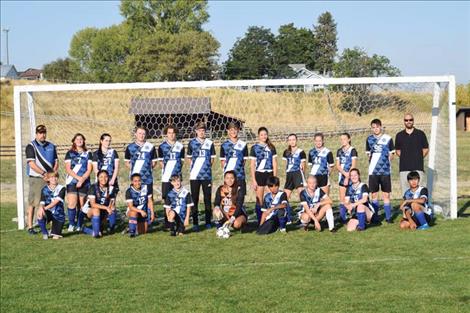 POLSON — The Mission Valley Christian Academy Eagles co-ed soccer team took second place in the End of Season Tournament.
The event was hosted by MVCA in Polson on Saturday, Oct. 17. Clark Fork Soccer Association, a co-op squad comprised of homeschool players from the communities of Plains and Thompson Falls, defeated the Eagles 5-2 in the championship match. Both MVCA goals were scored by top leading scorer Braydon Luikart with assists from Noah Carlin and Liam Doll.
Earlier in the day, the Eagles advanced into the late afternoon championship match with a tough semifinals win over Bitterroot Homeschool. MVCA won on penalty kicks 3-1 after time ran out in regulation play with the score knotted at 1-1.
The Eagles finish the 2020 season with an overall record of six wins and five losses, winning matches against Hamilton Christian, Bitterroot Homeschool, Stillwater Christian JV and Helena Christian. Four of the Eagles' five-season losses were to league champion Clark Fork.
Luikart anchored the Eagle offense and finished the season as MVCA top scorer, scoring 24 of the team's 56 total goals. Luikart also paced the Eagles with a team-high 11 assists.
Though MVCA graduates a solid core of seniors this year including, Teagan Basden, Jesse Pepion, Nayeli Windauer and Doll, the team retains a strong pool of talent to pull from and can look forward to fielding a competitive squad next season.