Lake County election ballots rolling in, due Nov. 3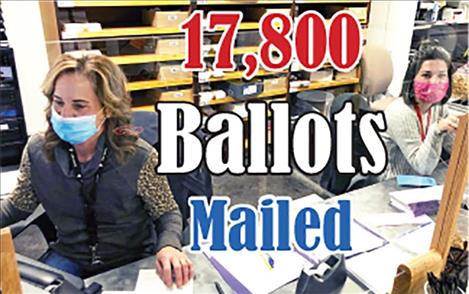 LAKE COUNTY – Nervous about the security of Lake County's first all-mail general election? A visit to the election office in the county courthouse should help allay those fears.
The small space is humming these days with voters dropping off ballots under the watchful eye of a county deputy while others vote in person at a handful of booths. Three seats are set aside for poll watchers, one per party. The rest of the office houses workers and apparatus poised to process ballots for the Nov. 3 election.
Since most of Lake County's elections are mail-in affairs, including last June's primary, election administrator Katie Harding (who transitions to clerk and recorder post election) seems perfectly at ease with the process.
During an interview last week, she said the department had mailed 17,800 ballots so far, compared to about 15,800 in the primary election. She expects that number to increase since people can still register to vote through 8 p.m. on Election Day.
As of last Thursday, just over 9,200 ballots had been returned to the office – almost the entire number of votes cast during the primary. In terms of voter turnout, "that's a good sign," she said.
The coronavirus pandemic, which is the reason the county commissioners opted to approve an all-mail election, has also shaped the heightened safety precautions in the election department. Masks are required for entry to the courthouse; and Plexiglas screens are set up between voters and staff members, between polling booths, and between poll watchers. Voters are required to stay six feet apart when standing in line, pens are sanitized after each use "and we've got lots and lots of hand sanitizer," said Harding.
Since an all-mail election is new for many voters, and because of the misinformation surrounding the process, Harding and her staff have fielded a fair number of phone calls from confused voters.
"Mostly, it's from people that normally vote at a polling place and are a little bit more concerned because they just don't fully understand the process and they're watching a lot of news nationwide that's not correct information for how Montana does it," said Harding. "But typically, if you just talk them through our process, they feel pretty good once they get off the phone."
Steps are taken to ensure voting security. When ballots come in, whether by person or mail, they're placed in a sealed ballot box. Next, the bar code that appears on the outside of the affidavit envelope is scanned into the system, which calls up the signature on file for verification.
If the signature on file doesn't match the signature on the envelope, that ballot is set aside for confirmation. "If we have a phone number on file, we call and ask them to explain the discrepancy – usually it's someone aging a little and their signature has gotten a little shaky," Harding says.
But if there's a more pronounced difference, the office mails the voter a rejection letter. In response, the voter needs to sign that notice, photocopy an accepted form of ID (the letter includes a list) and mail, email, fax or hand deliver the completed document to the office by Election Day.
So far, Harding says, 23 ballots have been set aside to await verification for a variety of reasons. Perhaps the voter forgot to sign the outer envelope, or the signatures didn't match, or a provisional voter's ID wasn't verifiable.
In addition to signature verification, voters have expressed concern "that all the stuff we do is hooked to the internet," which is untrue, said Harding.
The tabulating machines that actually count the votes "are never-ever connected to the internet, and they have tamper-resistant seals on them, so every single time we're done with that machine, it gets sealed and locked." She adds that both tabulators and ballots remain under lock and key throughout the process, with camera surveillance.
Once the exterior affidavit envelope is sorted by precinct and approved, it's stripped away to reveal the pink secrecy envelope inside, which is then stashed in another sealed ballot box.
On the Thursday and Friday prior to election, the staff will begin slicing open the secrecy envelopes and flattening out ballots before they go into sealed ballot boxes over the weekend.
"We usually lay things over them like bricks or reams of paper or other heavy objects to help flatten them a little better for the tabulator," she says.
The action moves upstairs Monday morning when certified election judges arrive in the counting center to begin the tally. Harding has a dozen lined up for this year's count. "Most elections, we can do with about four or five," she said. "But for one this large, you just bring in a lot more so that people can take breaks and rest their eyes and their hands."
The pandemic also makes it essential to have a full crew in case someone comes down with the illness or is quarantined. And since the average age of poll judges in Lake County is around 70, "it's even more important to have more people available."
If registered voters haven't received a ballot, or accidently threw it away, spilled coffee on it, or voted for the wrong candidate, there's still time to ask for a replacement. As long as a ballot hasn't been submitted, "they just need to get a hold of our office as soon as possible so we can get them a new ballot in time," said Harding.
Even though ballots mailed in Lake County were typically arriving at the courthouse within 48 hours last week, relying on the postal service isn't recommended this close to Nov. 3.
"Starting Wednesday we strongly recommend that you drop off ballots in person since it has to be physically here on Election Day at 8 p.m.," said Harding. "You can't have it postmarked and think that that counts."
For those Lake County residents who haven't mailed their ballots or registered yet, there's still time to register, vote or deliver your ballot in person at the courthouse, which is open this week from 8 a.m.-5 p.m.
To register, Lake County residents need either their Montana driver's license number or the last four digits of their Social Security number and their current address. "It's really pretty simple," Harding adds.
On Monday, Nov. 2, the office is closed to late registration from noon-5 p.m. But registration and in-person voting resume Tuesday morning and continues until 8 p.m. Those in line when the polls officially close will still be allowed to vote, said Harding, who says a deputy will be on hand to alert stragglers.
Although voters are currently encouraged to visit the election office via the door on the east side of the courthouse, that changes on Election Day when the courthouse is closed to regular business. Then, voters will enter through the front door, making it easier to keep people six feet apart "in case it's snowing, blowing or raining."
On Election Day, poll observers (limited to one person per political party at a time in each location), will be allowed to watch both in-person voting and vote counting. "It's usually pretty laid back," said Harding.
As for results, Harding expects to post preliminary numbers shortly after 8 p.m., although the final count is apt to take longer than usual she said. "If we have lot of people still voting at 8 p.m., it's hard to predict where we'll be that night." Tabulations are posted outside the commissioners' chambers.
She encourages anyone who has questions or concerns to call the office at 406-883-7269, visit www.lakemt.gov/election/election.html or email Harding at kharding@lakemt.gov. Registered voters may visit My Voter Page at app.mt.gov/voterinfo/ to track the status of their ballot and find out when it arrived in the election office.