Lady Vikings win 14C volleyball district title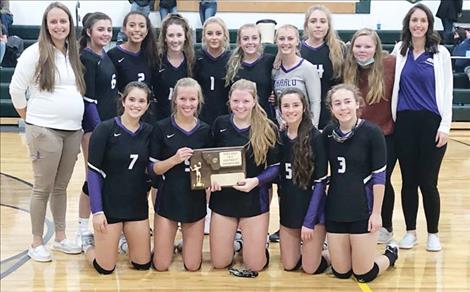 ST. REGIS — The 2020 Charlo Lady Vikings took their first steps toward a visit to the state girls' volleyball tournament by capturing the Class 14C District Championship on Saturday afternoon in St. Regis with a 25-15, 28-26, 25-13 victory over the Hot Spring Lady Savage Heat.
The Lady Vikings opened the district tournament on Thursday with a 25-16, 25-12, 21-25, 21-25, 15-11 five-set match victory over visiting Noxon Lady Red Devils.
Conner Fryberger and Kassidi Cox each had double-double performances. Fryberger had 11 digs and 21 assists, while Cox finished with 13 kills, 11 assists and nine digs.
Carlee Fryberger had 15 kills, two blocks and six aces. Lady Viking Molly Kate Sullivan chipped in with fives aces and a team-high four blocks.
In the 14C District Championship game, Carlee Fryberger had eight digs and 11 kills, while Conner Fryberger added a game-high 21 assists and had seven digs. Sullivan fired four aces and eight kills followed by Cox who also had eight kills and six assists.
The Lady Vikings will open divisional tournament action at home on Tuesday by hosting the Shields Valley Lady Rebels.