Virtual meeting brings governments together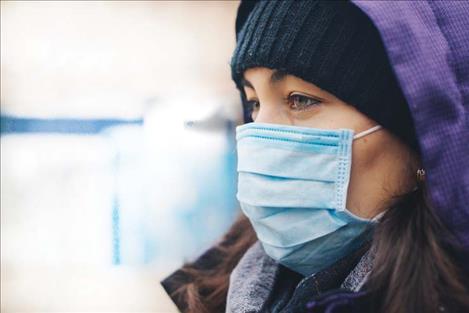 During a virtual meeting between the Confederated Salish and Kootenai Tribal Council and Lake County Commissioners last Tuesday, Nov. 17, tribal council member Martin Charlo made a poignant plea for the public to take the coronavirus pandemic more seriously.
"I have an elderly father, an immune-compromised son and an immune-compromised wife and I just got a call from public health telling me I'm COVID positive. I don't know where to go. I don't know what to do," he said. "I shouldn't be at my own home. I shouldn't be at my dad's home. I shouldn't be at my mom's home. This is the reality of it."
At the onset of the coronavirus pandemic, the Confederated Salish and Kootenai Tribes and Lake County created the Unified Command Center to address the COVID-19 threat in the community by organizing county and tribal resources to fight the virus spread. As an additional precaution, the tribe continued its shelter-in-place order longer than the governor and closed reservation lands to non-residents through most of the summer.
Tribal Council Chair Shelly Fyant voiced her concern about the current rising number of positive COVID-19 cases across the reservation, advocating "100 percent" mask compliance and social distancing.
"We just lost another tribal member at one o'clock this morning – and it's just not acceptable," she said. "We don't want to have to take that extreme measure again (of sheltering in place). We should just have the common sense to do these simple things."
Governor Bullock issued a mask directive on July 15, mandating that people wear masks in a variety of enclosed public settings, but the directive is often ignored by both businesses and customers, despite solid evidence that masks, social distancing and hygiene can dramatically decrease the rate of COVID-19 infections.
The Lake County Courthouse is a good example of the disparity in enforcement. The public must wear masks to enter the courthouse, but once inside, different offices have different protocol. The county planning office, for example, requires the public to wear masks, while the county commissioners don't require masks, although they do encourage social distancing.
Given the lack of consistency, "My primary question is in what manner are we unified?" asked CSKT Tribal Councilwoman Charmel Gillin. She noted that the tribal government is committed to "doing what our public health officials are asking us to do to help alleviate and prevent the impacts of the spread of the virus."
"What are we unified for, and how do we utilize that united front or strength to support the public health officials that we're relying on to protect our communities, our businesses, our economy?" she asked.
Tribal Council members noted that they field complaints about businesses up and down the valley that do not enforce the mask mandate. "What we're telling tribal people is you don't have to do your business there," said Fyant. "If people aren't obeying the state mandate and aren't taking into consideration other people's health and safety then take your business elsewhere."
Diana Luke, Lake County Environmental Health officer, noted that her department is tracking complaints submitted via the Department of Health and Human Services' consumer safety portal, which was created in mid-October and can be found at https://dphhs.mt.gov/publichealth/FCSS/ConsumerComplaintForm. So far, they've received close to 70 complaints on various businesses in Lake County, beginning with a burst of 45, and tapering off to around 10 a week. Grocery stores, hardware stores, bars and restaurants have all drawn ire from county residents.
The department responds to complaints by informing businesses of the directive and reviewing Centers for Disease Control recommendations on how to prevent illness. "We're relying more on educational outreach," Luke said, noting how hard it would be to police high-traffic businesses like grocery stores.
Enforcing the mask mandate appeared to frustrate both tribal and non-tribal participants in the meeting. County Attorney Steve Eschenbacher pointed out that a recent attempt by the state health department to close five Flathead Valley businesses for non-compliance with the mask ordinance was rejected by Flathead County District Court judges. He suggested that city governments might have more leeway to enforce the mandate than county government.
"How do you mandate and effectively ensure compliance?" asked Gillin. "That seems like a losing situation. But then, how can we – as elected officials – do something that makes a difference?"
"It's a little disheartening to hear that the governor can come up with a statewide mandate but he doesn't have authority to back that up," said councilman Fred Matt. "I don't think anyone has intentions of throwing people in jail and overburdening the police force. It's just disheartening that there's a segment of the population that's just not getting this. The best thing we can do is be examples."
He alluded to the billboards posted along U.S. Highway 93 with images of tribal people wearing masks and suggested local governments work together on a collective advertising strategy to get the word out.
Lake County Commissioner Bill Barron was receptive to developing a collaborative approach. "We can do a lot of things together as far as encouraging wearing masks, social distancing and respecting those businesses you go into that want to stay open. Do it for them if not for yourself," he said. "Education is the key."
In addition to billboards, the Tribal Health Department is creating videos that offer information on quarantining, contact tracing and telemedicine from a tribal and cultural perspective.
"We're coming up on Thanksgiving and what we normally do is gather and share a meal and that's just not realistic because of the community spread stage that we're in," said Fyant. "The Centers for Disease Control recommend sharing a meal only with members of your household – not members of your family. That's a difficult one."
Gillan mentioned the challenges of finding housing for those who need to isolate themselves, especially people who are homeless or in dire financial straits. She suggested the Unified Command Center work together to make sure logistics are in place for temporary housing.
"What do we have as far as resources and how can we be prepared for an over-abundance of need?" she asked.
Charlo urged local governments to come together for the health of the entire county and reservation.
"If you look at the numbers from July 1 to now, they're staggering. We blamed tourists all summer and now we only have ourselves to blame," he said. "COVID is an invisible enemy, and it doesn't see sex, religion, politics. It just wants to infect."
"Without the support of everyone and the help of everyone, we're going to be here a year from today doing the same thing, and we'll have a lot more lives lost by then," he added. "Let's not just pass the buck and kick the can to everyone else."
The tribal council and commissioners agreed to meet again and invite mayors and city managers of the communities within the reservation. For more information on the Unified Command Center, visit www.ucc-jic.com/.