Healthcare workers inundated with calls asking for vaccine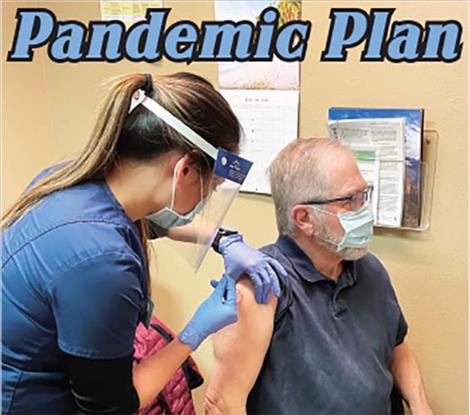 LAKE COUNTY — "We are more than inundated with phone calls, said Lake County Health Services Director Emily Colomeda on a Zoom call with the county commissioners last week. "People are frustrated and we're just as frustrated with the process as the public is."
It's a common lament among healthcare providers, who are fielding hundreds of phone calls from Lake County residents hoping to schedule a vaccine for COVID-19. Unfortunately, between limited supplies and staffing shortages, those vaccine slots can be hard to come by.
Colomeda urged Lake County residents 70 and older, and others who meet Phase 1B requirements (see sidebar) to first reach out to their primary care providers. Those who don't have a family physician are welcome to schedule a vaccine appointment via Lake County Public Health, although vaccine slots are limited and the waiting list is long. To get on the health department's list, call 406-883-7288 and leave a message.
Colomeda told the commissioners that she has three people handling phone calls these days. "As one is taking the messages off, 10 more come on," she said.
Diana Luke, the Environmental Health director, said her department was also receiving emails and phone calls. "And I deal with septic systems," she said.
The health department is currently giving vaccines to those with appointments on Wednesday mornings and Friday afternoons, and Colomeda hoped to expand to two full-day clinics soon with help from three volunteer nurses. "That would double our capacity and double the number of people that we're vaccinating," she said.
Further complicating vaccine rollout is the need to administer the second dose next month to everyone who has received their first dose. Then there are staffing issues. A nurse was out, and the communication director was quarantined for 10 days, making it difficult to keep the public informed.
"Our other nurses are doing contact tracing and trying to do immunizations at the same time," said Colomeda. "We're all pitching in when we can, knowing that other facilities are also struggling with the logistics of how to vaccinate all these people."
Meanwhile, Colomeda encourages the public to practice patience. "We're telling people to stay safe and know it's coming."
Once the vaccine is more available, those who receive it will still need to mask up in public, stay at least six feet away from others, and keep washing those hands.
"It's not a license to drop those precautions – I hope people understand that," she said. "It's going to take at least two shots that we know of to get full immunity from this vaccine."
Colomeda noted that the state is also preparing to launch a website, www.mtreadyclinic.org, that will allow people to register for the vaccine online. "That will hopefully reduce the calls we're getting," she said. "I think that's going to help a lot."
For more information, follow Lake County Public Health on Facebook or visit the website at www.lakecountypublichealth.org.
Providence St. Joseph Medical Center
Wayne Freier was one of the first Providence St. Joseph Medical Center patients to receive his COVID-19 vaccine. The 74-year old Polson resident is a cancer survivor and has a history of heart issues, but that's not the reason he wanted to receive the Moderna vaccine.
"I have a 29-year old grandson who is autistic and has other life-threatening health concerns and I want to be able to see him again and help our daughter with his care," Freier said in a hospital press release.
He was among 74 St. Joseph patients who received the COVID-19 vaccine last week under Montana's Phase 1B vaccination effort.
Nine Montana State University nursing students, brought to Polson through the Western Region Healthcare Coalition, helped deliver last week's round of vaccinations.
"This is truly a win/win situation for us," said St. Joseph Director of Operations Landon Godfrey. "It affords these wonderful nursing students the opportunity to take part in a truly remarkable milestone in our fight against this pandemic, and in turn we get nine additional talented individuals to help with the logistics and execution of this effort!"
St. Joseph continues to reach out to patients who fit the 1B guidelines through its online portal, My Chart, and via text or email. The facility will schedule vaccines according to availability – which remains the big unknown. Meanwhile, the phones keep ringing. St. Joseph Clinic Manager Amanda Clement relayed a story from one such call.
"This gentleman told me of a time when his parents drove him many, many miles to receive the polio vaccine. He said he wanted the COVID-19 vaccine to honor his parents and their sacrifice."
St. Luke Community Healthcare
At St. Luke Community Healthcare, in Ronan, the staff is currently rolling out Phase 1B in a strategic manner, due to vaccine supply levels. Other complications include storage and scheduling requirements.
According to a hospital press release, "the multi-dose vials expire after being open for a certain amount of time, so scheduling is a huge factor." Compounding this complexity, vaccine recipients must be monitored for at least 15 to 30 minutes after receiving a shot.
"We are working through all the staffing, supply, and space logistics to keep this process as safe and efficient for our community as possible."
Currently, St. Luke providers are prioritizing patients in Phase 1B based on risk factors and vaccine supplies. The staff is reaching out to higher-risk patients first but anticipates expanding their outreach as the supply stabilizes.
St. Luke urges patients to take the online vaccine intake survey at stlukehealthcare.org/covid-vaccine/. Once they've completed the survey, they receive a confirmation email, and staff will call the patient directly once enough vaccine arrives, and they become eligible.
The press release implores, "Please do not call to schedule a vaccine appointment at this time. We cannot guarantee a specific timeline, as there are many factors in play."
CSKT Tribal Health
Beginning Friday, Jan. 22, Tribal Health launched a regular COVID-19 vaccination clinic at the St. Ignatius Fitness Center gymnasium and KwaTaqNuk Resort in Polson.
Tribal Health patients are required to preregister and schedule a specific time – no walk-in appointments are allowed. The clinics are open from 9 a.m.-2 p.m. Monday through Wednesday and 1-6 p.m. Thursdays and Fridays.
Tribal elders (those over age 70) are the priority now, and Tribal Health is actively identifying and calling this group of patients to schedule vaccinations as more doses become available.
According to Tribal Health's Community Health Division Director Chelsea Kleinmeyer, the Tribes had vaccinated 500 people by Jan. 20 and were beginning to give second doses to Tribal Health employees last week.
The health department currently receives from 100 to 200 doses of the Moderna vaccine weekly. Calls are pouring in for vaccine appointments, and Kleinmeyer advises Tribal Health patients to call Community Health nurses at 406-745-3525 and leave their name and phone number. A scheduler will call each patient back to arrange an appointment as vaccines become available.
To keep up with the vaccination effort, she recommends following Tribal Health on Facebook and signing up at cskthealth.org for regular emails.