Man pleads not guilty to theft, drug charges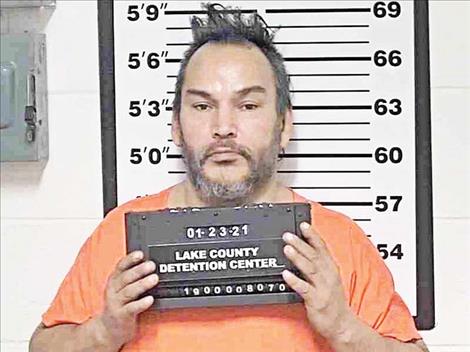 A reduction in bond was denied for a Lake County man facing car theft and drug possession charges. Orlando M. Powell, 47, entered a plea of not guilty to charges at District Court in Polson on Feb. 11.
According to court records, on Jan. 22, a Polson woman reported to Lake County emergency dispatch that her car was taken from in front of her home.
She told the responding officers that the car was equipped with a tracking device. Law enforcement officers were able to pinpoint the stolen car's location to an address on Finley Point Road. Lt. Fernando Venegas, with the Lake County Sheriff's Office, was already familiar with the address from prior interaction.
Venegas observed the property for a few minutes before a truck appeared. The truck pulled out through the woods adjacent to the property driveway. Venegas stopped the truck and identified both the driver and the sole passenger.
Powell, the passenger, was in possession of the key to the car, and he admitted to stealing the car. Powell told Venegas that the driver of the truck he was in had no knowledge of the car theft. Powell was arrested and brought to the Lake County jail.
During the booking process, detention officers located a meth pipe in Powell's "intergluteal cleft" and a baggie of meth in his sock.
Powell's attorney Sterling Laudon, with the public defender's officer, motioned for an own recognizance release. Chief Lake County Deputy Attorney James Lapotka argued against the release saying Powell is wanted by authorities for crimes in three other states and poses a flight risk.
Judge Deborah "Kim" Christopher maintained bail at $50,000 and set the case for trial on July 12. Powell is facing additional drug charges for allegedly possessing meth on Dec. 9, and an arraignment hearing, in that case, is set for Feb. 25.