Mask mandate continues in Lake County with 30 day review
Local schools agree to stick with it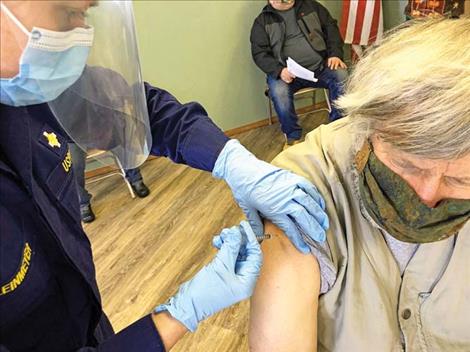 LAKE COUNTY – To wear or not to wear a mask? That was the question before the Lake County Board of Health during a public hearing Feb. 16, as board members crafted a response to Gov. Greg Gianforte's repeal of his predecessor's statewide mask mandate.
In a four-to-one decision, the five-member board chose to extend Resolution 20-04, passed last March, that declared a public health emergency in Lake County, and with it, a mandate that people continue to wear face coverings in indoor public places. A public meeting will be held in 30 days to reevaluate the state of emergency, especially in light of declining COVID-19 cases and increases in the number of people who have received vaccines.
County Commissioner Dave Stipe pointed out that Lake County has taken direction from its public health officials since the onset of the pandemic last March with mostly successful results.
"I don't want to change what's working for everybody," he said. "The schools have been able to keep their doors open and there's businesses that require masks and businesses that don't. I don't want to start putting people in jail because they don't wear a mask, but I sure want to support anybody that wants to protect themselves and their employees."
The meeting elicited often sharp comments from a clearly divided public with one woman charging the county with creating a "medical police state" by "punishing healthy people who are not able to breathe the fresh Montana air because there are immune compromised people out there."
The mandate, she charged, "infringes on our Constitutional rights. You should not be mandating what we do for our health – that is up to the person."
Moquey Marquross told commissioners that his 9-year-old daughter, who is on the autism spectrum, won't wear a face covering.
"It freaks her out," he said. "She feels claustrophobic and refuses to wear it, so it has limited where we go. Frankly, it's been a really rough year."
He also questioned the science behind mask wearing. "I don't want to live in a place that just continues to keep mandates in place for no reason," he said. "I want to make sure our representatives are evaluating these things and not just blindly saying we need to keep doing this."
"It freaks her out," he said. "She feels claustrophobic and refuses to wear it, so it has limited where we go. Frankly, it's been a really rough year."
He also questioned the science behind mask wearing. "I don't want to live in a place that just continues to keep mandates in place for no reason," he said. "I want to make sure our representatives are evaluating these things and not just blindly saying we need to keep doing this."
Another opponent was Dr. Daniel Rausch, a family physician in Polson, who called the science behind masking "very questionable."
"The fact is, as we build coronavirus antibodies in our system, either through infection or vaccine, we're going to see less spread of this disease," he said. "From my standpoint, mask mandating from a governmental standpoint is not where we should be at. We need to let people make their own decisions."
Devin Huntley, chief operating officer of Providence St. Joseph Medical Center, took a more middle-of-the-road stance. "There's a lot of science to support both sides of wearing masks so it's really confusing," he said.
Still, he noted that Lake County's approach to managing the pandemic appears to be working well. "I've traveled all over the state in the last six months, and whatever we're doing in Polson, we've really, for the most part, dodged the bullet," he said. "Some of these hospitals in small towns have literally been ravaged and we haven't been."
Several speakers voiced whole-hearted support for continuing the mask mandate.
"A preponderance of evidence and facts and studies shows that masks help reduce transmission," said Craig McClure. "And those of us that are vulnerable by age and condition are very much appreciative of the fact that people wear masks."
Rick Smith cited the Centers for Disease Control, which advocates mask wearing as an important component in limiting the spread of COVID-19. "The good news is there's light at the end of the tunnel," he added. "We're getting vaccines out, so let's not give up now after a year of misery."
Dr. Bernadette Corum, medical director for Tribal Health, said the tribes also plan to continue masking and hygiene protocols. "We don't think it's going to go on forever, and we also support seeing where the trend goes in the next 30 days," she said.
Longtime public health nurse Barbara Markham, who is one of the five members on the public health board, called the pandemic "a truly serious situation that hasn't occurred for 100 years."
"It's important we keep things in perspective, and part of that perspective is: if I wear my mask I'm protecting you from me, and if you wear your mask, you're protecting everyone from you," she said. "That's the kindest, simplest thing we can to do to assist in keeping this infection from increasing and continuing to decrease our numbers."
Logan Lloyd, who also sits on the health board, straddles the fence when it comes to personal mask use.
"I wear my mask like I wear my gun, sometimes I do and sometimes I don't. I make those choices all the time," he said.
He supported the commissioners' plan to reassess the mandate in a month and establish criteria for lifting the state of emergency. "That's doable," he said.
In the end, commissioners Stipe and Gale Decker joined Markham and Lloyd in voting to extend the emergency declaration and mask mandate for 30 days. Commissioner Bill Barron opposed the measure.
"We either need to not have it or go further with it," Barron said.
The board will reconvene at 1:30 p.m. on March 16 for a special session to reevaluate whether to continue the emergency declaration and mask mandate.
School districts also continue masking
Ronan Superintendent Mark Johnson spoke up at the public health meeting in favor of the 30-day extension of the county's mask mandate. He pointed out that Gov. Gianforte lifted the statewide mandate in part because the Montana Legislature recently passed a liability shield to protect non-profits and businesses from lawsuits related to the virus. Public schools, however, were not included in the shield.
Johnson also noted that most teachers are still waiting for vaccines. As frontline workers, most fall into Phase 1c of vaccine distribution, which isn't expected to begin until March or April.
"I think it's important to keep doing what we're doing," he said. "We've increased the facility cleaning, the hand washing, the sanitizing, the social distancing. I really do feel having our students and staff wear masks has been very effective."
The Valley Journal also reached out to administrators at other districts in the county, who announced that masking remains a component of their efforts to contain the spread of COVID-19.
Charlo schools had more than 40 people quarantined during a spike in November but has mostly kept the virus at bay since school resumed after the Christmas break.
"I think the combination of cleaning, distancing, face coverings, hand washing, and people staying home when they're sick played the biggest role in keeping quarantine numbers down," said Superintendent Steve Love. "Since the Lake County Board of Health just voted to extend the mask resolution for 30 days, we will also be continuing the face-covering requirements."
In Polson, "Masking, along with other mitigation strategies we've practiced this year, has allowed us to keep our schools open, and our students and staff relatively safe from COVID-19 and our usual battle with seasonal flu and colds," said Interim Superintendent Tom DiGiallonardo.
Likewise, St. Ignatius Superintendent Jason Sargent said his district will continue to observe Phase 2 protocols, which include mask wearing for students and faculty.
Vaccine update
According to the tally kept by the Department of Health and Human Services, 6,662 doses of the vaccine had been delivered in Lake County as of Feb. 21; 1,468 people are fully immunized and 5,194 have received their first dose. That's a ratio of 275 doses per 1,000 people – considerably higher than neighboring Flathead County (148 doses per 1,000) or Missoula (202 doses per 1,000).
The tribes, no doubt, contribute significantly to the higher coverage rates. Tribal Health recently received 975 doses of the Pfizer vaccine and was able to give a first round of shots to vulnerable teenagers, as well as continuing to vaccinate tribal elders and those with preexisting health conditions.
As of Feb. 16, Lake County Public Health had vaccinated 475 people and is delivering between 120 and 160 vaccines per week, with help from volunteer nurses. St. Joseph and St. Luke medical centers also continue to deliver the vaccine to patients, and Walgreens and Safeway pharmacies have begun scheduling vaccinations.
"At some point, we'll work together with our partners to do a larger-scale clinic in one of later phases just so we can get everyone vaccinated as soon as possible," Health Services Director Emily Colomeda told the Lake County Board of Health. "So, hopefully we can get those teachers done before the school year ends."
According to Dr. Corum, efforts are underway to post links to the various vaccination efforts at the Unified Command Center's website, www.ucc-jic.com.
Meanwhile, organizers of events with more than 50 attendees are still required to submit a plan to the Lake County Health Department for review.
"We currently require masks at large events, along with social distancing and hand hygiene stations," said Colomeda. "I would like to see this continue."