Charlo girls basketball team places third at Western C divisional tournament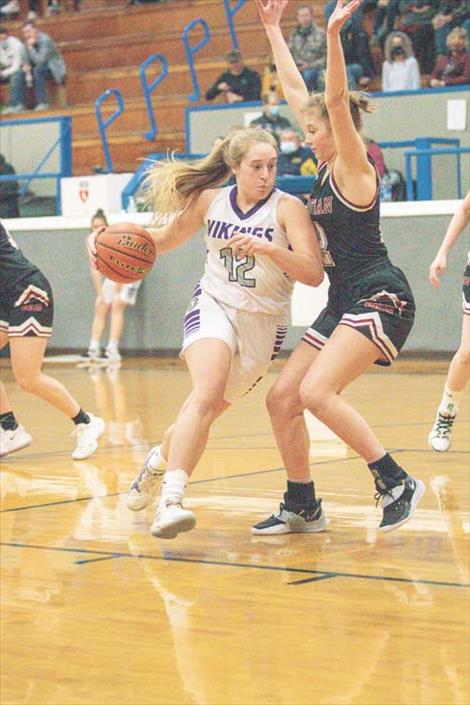 DEER LODGE — The Lady Vikings opened tournament action on Wednesday evening with a close 42-30 win over the Twin Bridges Lady Falcons.
Charlo's Lady Vikings entered the Western C Divisional tournament last weekend as the top seed out of District 14C. The Charlo team knew, from past tournament experience, that competition would be fierce and they'd need to play their best ball to secure a bracket spot in the upcoming Class C State tournament.
The 14C champs fell behind early to the Lady Falcons, trailing 11-6 at the end of the first quarter and down by a single point 20-19 at halftime. The Lady Vikings were still down 28-24 at the end of the third quarter.
Charlo went on a fourth-quarter 18-2 scoring rampage to come away with the first-round tournament bracket win. Liev Smith paced the Lady Vikings with a game-high 13 points followed by Connor Fryberger with 12 points.
On Thursday evening, the Lady Vikings were unable to find their groove on offense, allowing the Manhattan Christian Lady Eagles a strong victory with a 46-26 semi-quarter round win. Smith was the Lady Vikings' leading scorer with eight points.
In loser-out action on Friday morning, Charlo defeated District 14C rival Alberton-Superior Lady MountainCats for the fourth time this season, 32-27.
Playing in the consolation game Friday evening for third and fourth place, the Lady Vikings squared off against the Twin Bridges Lady Falcons for the second time in the tournament. The Lady Vikings took an early 12-7 lead in the first quarter and never looked back in a 43-29 win over the Lady Falcons. Smith scored a game-high 16 points to lead the Lady Vikings who finished the season with an overall record of 16-1 and a third-place Western C divisional finish.
Western C Divisional Tournament, Deer Lodge
Consolation
Charlo Lady Vikings 43
Twin Bridges Lady Falcons 29
Charlo 12 10 10 11 – 43
Twin Bridges 7 8 5 9 – 29
CHARLO – Hayleigh Smith 6; Kassidi Cox 4; Liev Smith 16; Mila Hawk 4; Brooke Alder 4; Connor Fryberger 8; Carlee Fryberger 1.