The Red Poppy's new owner continues vision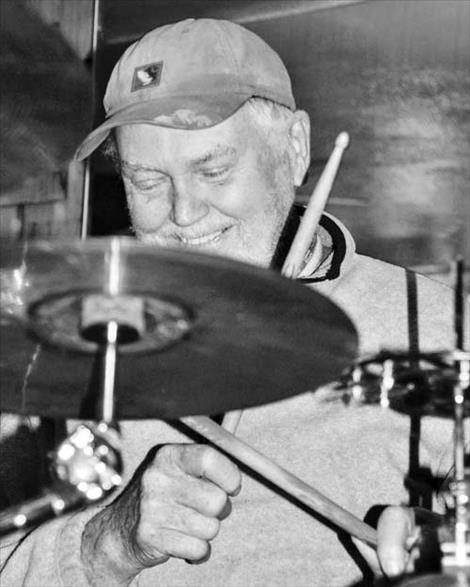 RONAN — The Red Poppy's new owner, Don Burgess, was born and raised in Missoula, and has deep ties to the Mission Valley. He taught for several years at Two Eagle River School in Pablo and, as a kid, came to his family's "little duck shack" at the edge of Ninepipe Reservoir.
"I'm mostly familiar with the creeks, rivers and lakes, the ducks and the pheasants," he says. "I've been coming and going from this valley all my life."
Before the pandemic, he sold his house in Missoula and flew to Europe, intending to live on a boat with a friend and cruise the canals. But a family emergency brought him back home and COVID-19 kept him here. So he returned to Ninepipe, purchasing a small cabin near the old family place.
One Saturday evening, Burgess ventured to Ronan to buy beer to accompany his homemade pizza and parked across from the Red Poppy to enjoy his dinner. When he heard music wafting through the night air, "I just followed my ears," he says. "I walked in and saw all these musicians on stage and thought, 'this is like heaven.'"
Burgess had wandered into a jam session with the Western Montana Musicians Cooperative, and asked co-founder Doug Ruhman to explain the phenomenon. A longtime drummer who played with Rob Quist's original group before Quist formed the legendary Mission Mountain Wood Band, Burgess still has music in his blood. He signed up for the co-op on the spot and has rarely missed a jam session since.
Meanwhile, the Red Poppy, located at the corner of Eisenhower Street and U.S. Highway 93, remained on the market. Established in 2005 by Julia Borden and Charlo artist Olivia Olsen, the once-vibrant arts hub had hosted art classes, a gallery, dance, yoga, music recitals and other community offerings.
After Julia died in 2014, her husband, Donn Borden, eventually put the building on the market. He had agreed to rent it to the co-op until it sold.
With its 20-by-40 foot stage and plenty of room for an audience, the Red Poppy was perfect for the fledgling group; however, members fretted about its future. "We felt really, really lucky to have this space, but we were also very nervous that it would get sold and we'd have to find another place to go," says Ruhman.
They reluctantly began researching alternatives. Ruhman, who taught in Ronan when he first moved to the Mission Valley in the 1980s, was hoping to keep the co-op in town.
"I moved here when Ronan was really vibrant in the mid 80s and Main Street was such a cool place – it's changed a lot since then," he says. "We'd like to do our little part to bring interest and excitement back into the community."
As a co-op member, Burgess was part of those conversations. He eventually decided to buy the Red Poppy.
"Our main motive is to preserve this performance venue for the musicians co-op," he says. But as owner, he also needs to pay for upkeep, utilities, taxes and insurance on the building.
"I do need to fill it with tenants and make it a paying proposition," he adds. "So far, it looks like it will work."
In addition to the co-op, the Red Poppy houses the offices of two family counselors, with a third planning to move in over the summer. Friends Forever, a non-profit that offers mentoring services to Flathead Reservation kids, is also relocating there.
Adjacent to the stage, musician and sound technician Joel West is building a soundproof recording studio. Burgess also plans to refurbish the kitchen and would love to see a beer and wine pub take over the south-side space with its outdoor patio.
"Everybody in the building is service- and community-oriented," says Burgess. "They're good people every which way."
In a sense, he feels the Red Poppy is continuing its founders' vision as a vibrant gathering place. "I hope it will be a happy place to come to," he says. "It's full of people with really good hearts."