Polson declares water emergency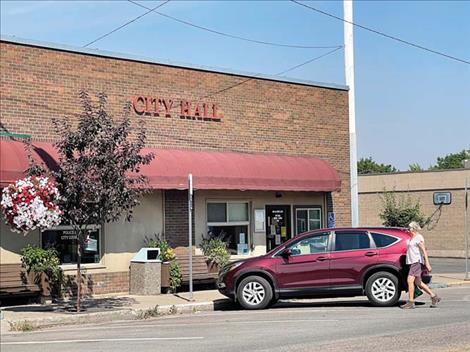 On Monday, as the drought's grip on the Mission Valley intensified, the city of Polson declared a water emergency, and shut off water for up to 12 hours to around 60 residences on the south side of town in order to fill critically low reserve tanks and save an essential booster pump from burning up. "When we came in this morning, we got a phone call from the chief water operator saying we needed to shut off water to four streets," said City Manager Ed Meece. The streets affected are Skyview Lane, Skyline Drive, Mission View, JB Drive, and Claffey Drive, where water could be turned off for up to 12 hours. The measure is intended to help refill the reserve tanks and make sure that the nearby booster station remains operable. As of press time, the city was taking steps to make bottled water available. "We've got water coming from both the north and south, and as soon as it gets to town we'll be pushing the word out," said Meece. Check the website, www.cityofpolson.com for the timing and location of bottle pickup and deliveries to the areas most impacted by the shutoff. Residents are now asked to quit watering lawns completely. The latest prohibition applies to underground sprinkler systems as well. According to the city's website, "all unnecessary use of water is prohibited, to include watering of yards and green spaces, as well as washing vehicles and other equipment. Fresh and sensitive landscaping (new trees, sod, etc.) should be watered only as needed for survival."Two weeks ago, the city imposed mandatory restrictions that require residents with odd numbered addresses to water on odd calendar days, and those with even-numbered addresses to water on even days. Despite those measures, and some adjustments by the public works department, water levels continue to plummet in storage reservoirs, which compromises the city's ability to respond to emergencies and meet operational demands. "We've had 20-plus days of 90 degrees or over and very, very limited rainfall," says Meece. "In my 15 years in Montana, this is the driest I've seen it." "As we continue to struggle with getting water reserves up we're asking folks to conserve water use as much as possible," he added.Meece says the city has also communicated with commercial customers "to make sure they understand the consequences and manage water with the least impact."The city is served by seven wells, with a project underway to construct an eighth. The golf courses and city parks are all watered by the irrigation project or lake, and don't pull from the city's water supply.
He noted that the city pumps around 800,000 gallons of water daily, and only 500,000 gallons are flowing through the wastewater plant. "We suspect the rest is going to water lawns," Meece said.
Meece counsels residents to conserve inside the home too by fixing leaky toilets or faucets, taking shorter showers, and washing dishes once a day. Indeed, research shows that even simple strategies, like turning off the water while brushing your teeth, washing your face or shaving, can save up to three or four gallons per person, per day.
Outdoors, it's best to water early in the morning or in the evening. Investing in a drip system or a soaker hose can cut water usage in half. Mulching around plants will also reduce water intake by as much as 50 percent by cooling the soil, reducing evaporation and keeping the weeds down.
For more information on the new water restrictions, visit www.cityofpolson.com or call 883-8201. Tips on conserving water are available at www.ready.gov/drought.