Ronan man sentenced for strangulation, criminal endangerment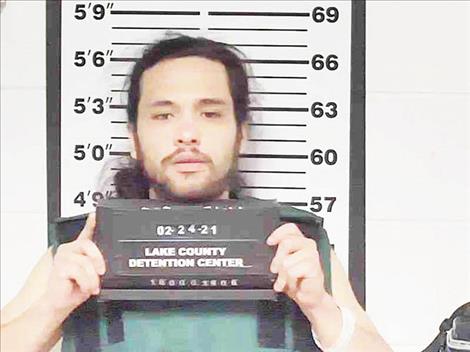 POLSON — A Ronan man was committed to the Montana Department of Corrections for a total of 15 years with all but five years suspended during a sentencing hearing at District Court in Polson on Sept. 9. Bojai Dominick Grant-Schmidt, 20, pled guilty at District Court in Polson on June 17, to strangulation of a partner or family member and criminal endangerment, both felonies. The pleas were entered as part of an agreement that dismisses one count of sexual intercourse without consent. The agreement also amended one count of strangulation of a partner or family member to criminal endangerment, both felonies.
According to court records, on Feb. 23, the grandmother of the alleged victim reported the assault. At the scene, the victim told responding law enforcement officers that Grant-Schmidt assaulted her "over the course of four days." She said on or about Feb. 20, Grant-Schmidt began hitting her because he was drunk. She said he became angry with her because she didn't want to have sex with him. She went on to state that Grant-Schmidt forced sex upon her despite her telling him no. She said on Feb. 21, Grant-Scmidt choked her with his hands around her neck and pillow over her head. Grant-Schmidt said he did use the pillow due to "rough sex."
Another person at the residence told law enforcement that they went into the room of the victim and witnessed her nude from the waist down and pulled Grant-Schmidt off of her. The witness later told a detective she heard the victim screaming for help and telling Grant-Schmidt to get off of her. She also said she saw Grant-Schmidt on top of the victim with "his forearm buried in her neck, choking her."
Judge John Larson of Missoula presided over the case via the zoom platform.