Flathead Reservation Water Management Board to select member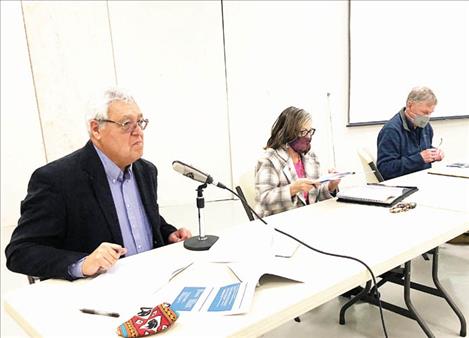 RONAN — The Flathead Reservation Water Management Board held its first meeting Thursday with just four members: the Tribal Council's two picks, Clayton Matt and Teresa Wall-McDonald, and Governor Greg Gianforte's two selections, Roger Noble and Kenneth Pitt.
Matt, who chaired the meeting, graduated from the University of Montana and went on to earn a master's degree in water resource administration from the University of Arizona. He headed CSKT's Natural Resource Department and was a spokesman for the Tribal Water Rights Negotiation Team. Matt has been a member of the tribal executive staff since 2010 and is currently director of Tribal Services.
Wall-McDonald earned a bachelor's degree from Great Falls College-MSU and a master's in education administration from Gonzaga University. She began working with tribal government in 1980 and was appointed to the Tribal Council in 1984 to fill an 18-month vacancy. She was part of the team that prepared the Tribes' legal case to assume ownership of Kerr Dam.
Wall-McDonald has served as CSKT personnel director and head of Human Resource Development, Tribal Lands and Tribal Health. She is currently director of Human Resources for Salish Kootenai College.
Noble, who lives in Kalispell but owns a seasonal residence near Polson, holds a master's in geology and has more than 40 years of experience in water supply, water rights permitting and groundwater contaminant investigations. He is currently a senior hydrologist and water rights advisor with Water and Environmental Technologies in Kalispell.
Pitt is a former Special Assistant U.S. Attorney who was charged with litigating federal water rights in the Montana Water Court from 1983-1993. During his lengthy career, Pitt also represented the Forest Service in the Snake River Adjudication, a case ultimately settled by the U.S. Supreme Court. Now living in Polson, he teaches environmental law and water law at Salish Kootenai College in Pablo, and a summer course titled "Water Rights in Indian Country" at the University of Montana law school.
At its upcoming meeting, the board will interview five candidates for a fifth position on the board. Two – Larry Robertson and Dennis DeVries – were recommended by Gov. Gianforte; and three – Chuck Courville, Rhonda Swaney and Georgia Smies – were put forward by the Tribal Council.
The board opted to interview those candidates during executive session prior to its next meeting.
The Department of the Interior appointed Shana Radford, who is the superintendent of the Flathead Agency for the Bureau of Indian Affairs, as the board's sixth, non-voting member.