Providence recognized for environmental excellence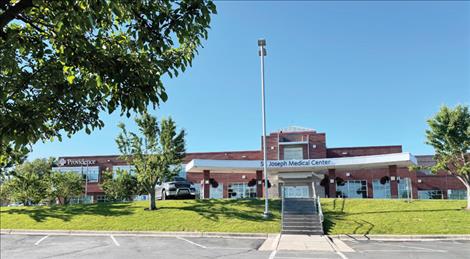 POLSON — Providence medical centers in Polson and Missoula have both received awards this year for environmental excellence from the national organization Practice Greenhealth.
According to their website, Practice Greenhealth is the leading membership and networking organization for sustainable health care, delivering environmental solutions to more than 1,400 hospitals and health systems in the U.S.
Of those 1,400 hospitals, Providence St. Joseph's Medical Center received the Greenhealth Partner for Change Award, recognizing them for superior performance in environmental sustainability; an award they've won for the last two years.
In order to receive awards, explained St. Joseph's Emergency Management Supervisor Aaron Wilson, an extensive application must be undergone involving months of data collection, stories and examples in 12 different categories. One benefit of this, he said, was that it allows them to track their data from year to year and compare themselves with different organizations throughout the country. "It lets us see how we're doing in comparison and look at best practices. It's been really beneficial for us in a lot of ways," Wilson said.
In recent years, through participation in this program, St. Joseph's has been able to significantly reduce their energy consumption in several ways. Since 2018, Wilson said they've reduced their paper usage by 50%, which comes out to a little over 1.4 tons of paper saved per year. They were able to achieve this primarily through education, as well as integrating double sided printers and going digital as much as possible within their institution.
Providence St. Patrick's RN Sustainability Program Manager Sarah E. Johnson agreed that education was key in success. St. Patrick's was able to win three Practice Greenhealth awards this year in leadership, waste, and climate, making it one of the top 25 medical organizations in the country for environmental performance.
"To make improvements, start small by educating the staff. The links between climate change and health, health care, and environmental stewardships are all a good base level of education," Johnson explained. "Sign on with Practice Greenhealth and you can get the resources to do that education and find out what it means to have an environmental stewardship program. From there you can really take a deep dive."
Another step taken at St. Joseph's was LED light conversion throughout the hospital, which Wilson described as almost aggressive in some areas. The hospital started with exterior lights and certain sections of the hospital, before replacing other lights simply as they went out.
Finally, a huge energy saving measure was taken simply by improving the efficiency of an existing air handler system. Following installation problems the air handler system ran at maximum capacity for years. Wilson said work was done to improve air flow and it has saved them around $13,000 this past year and improved their energy consumption exponentially.
"We're proud of the award," Wilson stated. "We'll continue to participate in Practice Greenhealth, I think it's definitely worthwhile to keep track of this information."
St. Patrick's Executive Director of Environmental Stewardship and PhD Beth Schenk outlined some of the framework used by Providence medical centers in order to succeed, inviting other medical organizations to do the same. "We use what we call the W.E.A.C.T. framework. This pulls all the aspects a little bit tighter so we can think in bigger buckets," Schenk said.
The W stands for Waste. As there's so much waste in healthcare, Schenk explained and a lot can be accomplished with basic recycling and composting, along with trying to avoid single use plastics. The E is for Energy and water, which Schenk describes as a great place to focus as a large amount of greenhouse gasses come from energy, making efficiency all the more important. A is for agriculture and food, with a focus on reducing food waste and decreasing the carbon intensity of meals. C is for chemicals, and while Schenk explains for climate change they really focus on anesthetic agents and nitrous oxide, they also pay attention to "chemicals of concern" that staff and patients are exposed to. Finally, T stands for transportation, where Providence focuses on the efficiency of their fleet vehicles, commutes for staff and patients, and minimizing business travel.
"Providence actually has a goal to be carbon-negative by 2030," Wilson said, "so this is helping us tremendously in that effort."