Community rallies to help with Elmo Fire response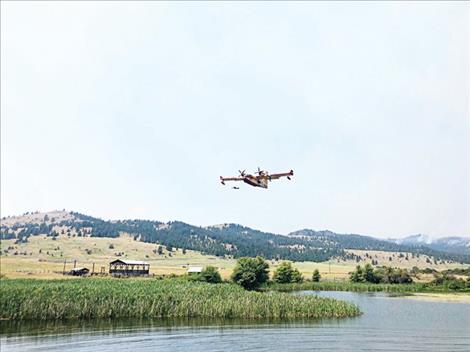 LAKE COUNTY — As the Elmo fire continues to impact many in the county, several ways for the community to help firefighters and those evacuated have become available.
Evacuation orders at time of writing affect Camp Tuffit/West Shore Road, while residents of Chief Cliff Lane, Black Lake Road, Big Meadows Road, Dayton Creek Road, and Lake Mary Ronan Road are under pre-evacuation.
The Red Cross has two emergency shelters on standby for residents displaced by the wildfire, one at Polson High School at 1712 2nd Street West, and one at Somers Middle School at 315 School Addition Road in Somers. These shelters provide a safe place to stay, meals, and community resources all for free. They are not seeking community assistance for the shelters at time of writing, but Red Cross Regional Communications Director Matt Ochsner commented, "We have volunteers on the ground ready to respond to emergencies thanks to the generosity of our community members. If people want to support our volunteers, they can go online to redcross.org, or call 1-800-733-2767."
As for support for those emergency responders currently fighting the fire, the primary donations requested are bottles of water, Gatorade or other electrolyte drinks like Vitamin Water, protein or granola bars, baked goods, easy-to-eat non-perishables, as well as wet wipes and saline eyewashes.
Mission Valley Elks held a water drive through Aug. 9 at 512 Main Street in Polson, but are still accepting donations now that the official collection is over. For more information, contact them at 406-883-1695.
In Lakeside, Glacier Perks is accepting these donations as well every day "from now until no longer necessary," according to their social media. Items can be dropped off in the common area of the shop. Additionally, their social media states "if you have been, or are currently under evacuation directives, coffee is on us!"
The Good Stuff Botanicals at 801 Grand Drive Bigfork became an official drop off center over the weekend as well, and are open 9 a.m. to 4 p.m. According to their social media, if they are closed, donations can be left by their front door.
As of 9 a.m. Monday morning, the Elmo fire's estimated size is 21,345 acres and is 55% contained. The boat ramp at the Elmo Fishing Access Site and Lake Mary Ronan State Park are closed. Eight structures have been lost.
Additionally, the Confederated Salish and Kootenai Tribes announced in a press release that, as of Aug. 5 and until further notice, the Reservation and Lake County are to be under Stage 1 Fire Restrictions. The following acts are prohibited within the Flathead Reservation for all except those with stage one exemptions:
- Building, maintaining, attending, or using a fire or campfire except within a developed recreation site or improved site.
- Smoking, except within an enclosed vehicle or building, a developed recreation site or while stopped in an area at least three feet in diameter that is barren or cleared of all flammable materials.
- Operating motorized vehicles off designated roads and trails.
"An exemption does not absolve an individual or organization from liability or responsibility for any fire started by exempted activity," the press release added.
To view the present fire conditions, visit inciweb.nwcg.gov/incident/article/8289/70119/or follow the CSKT Division of Fire on Facebook at www.facebook.com/CSKT.Division.of.Fire
To learn about upcoming community meetings about the fire, or additional ways to help, follow the Polson Chamber of Commerce on Facebook at facebook.com/polsoncc