Ronan discusses possibility of subdivision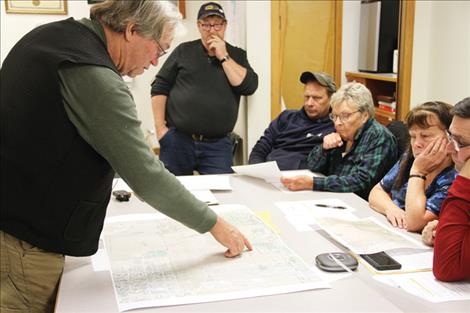 RONAN — On Nov. 9 the Ronan City Council listened to information about a possible subdivision coming to town.
Local surveyor Marc Carstens brought in the information, emphasizing that this was simply the introduction of a concept with nothing yet firmly concrete. This initial presentation was more to gauge interest and gather and share ideas, he stated.
A combination of two properties – one city, one county – that two developers expressed interest in at the same time, Carstens combined the concept into an example map of one large subdivision on city and county land proposing 240 lots of 7,000 square feet each. Presented as a potential augmentation of the highway expansion, the subdivision could help create other improvements to town such as expanded backroads to improve connectivity through town and additional traffic lights where most needed.
One stumbling block discussed was that this sort of expansion could result in the need for a lift station for waste, as it would overwhelm the gravity sewer. Carstens stated the first thing he'd do to determine that need would be to make a topographic map to evaluate what could be gravity sewer and what would need a lift station at some point down the line.
While this presentation was truly just the introduction to the initial concept of this subdivision, the council met the idea with cautious optimism. Should the plan go forward with the developers, the large area could have multiple zoning regulations within it, potentially allowing apartments and modular homes and single family housing alike.
"We've got teachers who've accepted jobs contingent on housing and then ultimately said no because they couldn't find a place to live," commented commissioner Calvin Hardy. "I think this would have to be something attractive for … not necessarily low income only, but where the teachers and nurses and police chiefs would want to live."
While Carstens will proceed with the developers after receiving approval from the council, it will still be around a 20-year project for development this size, even if all goes according to plan.
"My goal going forward on this thing is to put a sound enough plan together that others could see the benefit of it as well," Carstens said. "If these guys want to cut and run, (they'll) cut and run. But if there's enough value in it, it will go forward … We'll take it one day at a time."