Ronan Co-op beer featured in craft brewing magazine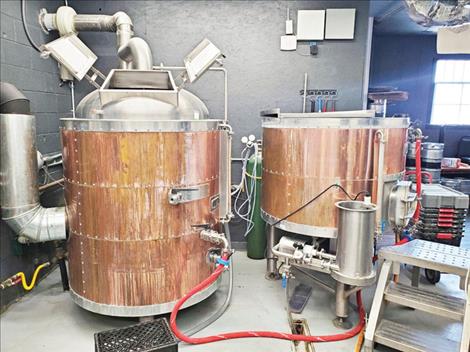 RONAN — The Ronan Cooperative Brewery found itself on the pages of Craft Brewing Magazine recently when their Forbidden City Amber was listed as one of contributing editor Kate Bernot's best beers of 2022.
Described by Craft Beer and Brewing magazine as "one of the most respected voices in beer journalism today," Bernot reviews beers from throughout the country.
"I'm not sure as far as rankings of brewing publications, (but) it's one of my favorites. For us to wind up in that magazine kind of blows my mind," commented Jim Myers head brewer at Ronan Cooperative.
"A lager-obsessed, sweat-all-the-details brewery in pretty much the middle of nowhere is just damn delightful," Bernot wrote in her review of the Düsseldorf-style amber ale. "This altbier is unimpeachable, well-attenuated, characterful with a bitterness that just slides in under the tag. I have caught myself daydreaming about this beer."
While the brewery staff had known Bernot was trying their beer, Myers said he hadn't expected their brew to show up on any lists. "What I was really thinking was that we might get some notes (for improvement) back," Myers stated, "not to show up in Kate's favorite beers of the year."
The Forbidden City Amber was the second beer ever brewed in the Co-op before its doors even opened to the public. The recipe of brewer and board of directors member Bob Hall, he remembers they brewed a stout on Tuesday, then his amber altbier on Thursday, and they've never taken it off draft since. One of their most popular beers, the brewers say its sales speak for themselves.
"I had gotten back from a vacation where I'd gone with a brewer friend to Düsseldorf. We'd traipsed around to the different brewpubs and tried the different beers," Hall said. "My brewer friend was famous for his altbier … but they make a darker, heavier style and I really liked the lighter styles we were tasting, so I made a recipe inspired by those lighter styles."
With five malts in the recipe and very few changes made to the formula since its debut, Myers described the amber as similar to an artisanal bread. "There's a lot of hops in it, but because of some of the complexity of the grains you wouldn't think of it as a hoppy beer," he added.
"We're really excited to see our beer in the magazine," Hall said. "We work hard to make very easy-to-drink style beer."
As for upcoming brews, the Co-op will be holding a release party for its wee heavy beer, a type of Scottish ale, which will be announced on their social media at: facebook.com/RonanCooperativeBrewery. Their award winning dunkles bock is still on tap for now, and a Czech dark will be on the menu as well in the coming months.
"Hopefully it helps us get closer to our mission of downtown revitalization and local sustainability," Myers commented. "The notoriety is great, I feel privileged and honored to get to be a part of it – so this is really neat, it's a fun industry a lot of times to be in. But if this helps more money stay in Ronan … then that's really the goal for me. If that's what we get, then we're doing the right thing."