Ronan Co-op Brewery says goodbye to event coordinator, looks to future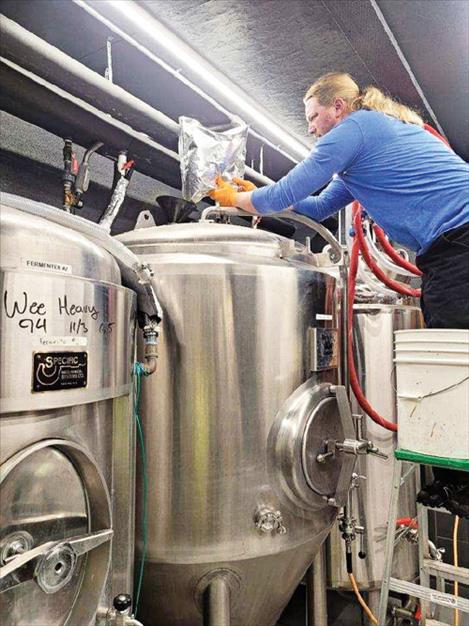 RONAN — With the new year comes changing times at the Ronan Cooperative Brewery along with new ideas for the future.
The Co-op's event coordinator Eric Brunet has officially stepped away as of Dec. 30 to focus on his heath. "It has been an honor to serve as a taproom server, manager, and events coordinator," Brunet stated. "Mobility, speech, and vision issues due to spinocerebellar ataxia have worsened and it is time to move on to the next adventure. Discovery and reflection will continue, just from a different perspective. I wish you all a Happy New Year."
"The first day he was gone last fall it was noticeably quieter in there," head brewer Jim Myers said. "I miss him in there. He brought so much life, he's so good with keeping customers engaged and keeping conversations going … he kept it light. And the biggest thing he did that was so important to the brewery, maybe the most important thing, is that he brought a lot of events into the taproom."
As Brunet steps away, Myers and the Co-op's board will try and fill the gap he leaves behind. The tap room situation changing during the quieter time of the year makes it a good time to reassess where things are going with the brewery, Myers explained. He went on to say the co-op will start focusing on the long-term. "We've operated for a while as a scrappy little business trying to make it go, and now we're two and a half years in," he commented. "It's really about reassessing which things work for us, which has the greatest return for our time and effort, and which things Ronan has told us and which things tourists that've come to the area have told us, because you want to cater to both. There's a lot of different styles and products to pay attention to."
One part of switching to a long-term view for the brewery is the reopening of preferred stock. In an effort led by board member Larry Hall, formerly of S&K Technologies, the Co-op is looking to pay down their construction loan, which currently makes up a large portion of their costs. The faster the Co-op can pay it down, the more manageable their costs will be. Preferred stock, when reopened, will be available for existing members. Those interested can find out more at: ronancoopbrewery.com/memberinformation
Throughout each month, he brewery will continue to hold events, including some possible open mic nights and more local food options. They will continue visiting brew fests and competitions in the coming year, with a few notable beers coming on tap in January, including the return of their Big Red Sticke, a new Czech dark beer, and their Dunkles Bock, which won silver at the North American Beer Awards in 2022.
Additionally, Myers said they are always looking for new local artists to display their artwork in the taproom. Those interested can reach out by calling the brewery at 406-676-4677 or emailing: ronancbtaproom@gmail.com.
Anyone interested in supporting Brunet in his next endeavors can do so at: https://gofund.me/3cb69726
"The time (Eric) spent reaching out and building relationships for people to come in and give guest lectures and things like that, music, artists on the wall, all that stuff, it's going to be the hardest thing for me to try to fill those shoes," Myers said.