Salish Kootenai College names new president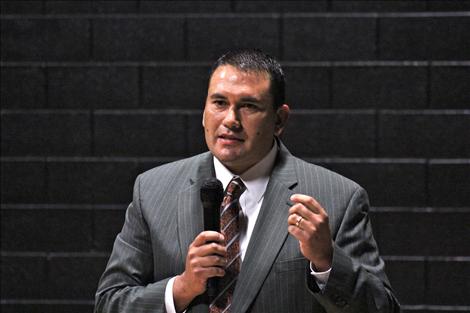 News from Salish
Kootenai College
PABLO –The Salish Kootenai College Board of Directors at SKC announced the selection of Robert DePoe III as SKC's new president on June 5. On June 4, the final three candidates — DePoe, Sandra Boham and Steve DuPuis — were on campus for a public question and answer session that drew nearly 100 people.
"Salish Kootenai College proudly announces the new president for SKC will be Robert DePoe III," said Jim Durglo, Chairman of the Board of Directors. "The Board and executive team are looking forward to a long, successful, and prosperous future for SKC under our new president."
DePoe will be visiting the campus throughout the summer.
Depoe, a CKST tribal member who grew up in Ronan, holds a master's degree in Professional Communication from Southern Utah University and a bachelor's degree in Criminal Justice with a minor in sociology.
He is currently employed as an Indian Self-determination specialist for the BIA in the Southern Paiute Agency, St. George, Utah. Previous jobs include working as a trainer and program manager of the Western Community Policing Institute, and as Education Director for the Paiute Indian tribe of Utah from 2003 to 2010.
DePoe was appointed to the Governor's Minority Student Success Working Committee in Utah, was an advisory member of Utah's State Board of education, and he served as Chair of the Coalition of Minorities Advisory Committee of the Utah State Board of Education.
DePoe has worked in the education arena for many years.
In a letter of interest sent in during the application process, DePoe wrote, "I understand the important and dynamic role Tribal Colleges play within our communities … Under my direction student achievement will always be top priority …
I believe SKC is the heart of our community and under my direction SKC will be a place of unity."