Tribe continues to fund workers; other agencies eye options in shutdown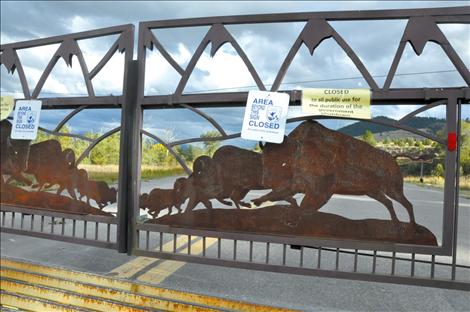 FLATHEAD RESERVATION – All tribal employees were ordered to work on Monday after a Thursday tribal council vote to keep services open despite lack of federal funding due to an ongoing Congressional budgeting stalemate that has left other agencies and services shutdown.
"There will be no furloughs," CSKT spokesperson Rob McDonald said.
It's unclear if the tribe will be reimbursed for paying for services in the shutdown that are usually federally funded, McDonald said. The exact cost of continuing to employ workers is unknown.
"It's more than anyone wants to think about," McDonald said. "Every week we get deeper into October the higher the cost is."
The House approved a measure that would retroactively pay employees at the end of last week, and Senator Harry Reid said on Saturday there was support for the bill, although he gave no details of when the Senate will schedule a vote on it.
Tribal employees are limiting travel and large expenditures to keep costs low during the shutdown, McDonald said.
Exactly how long the tribe can continue to avoid furloughs if the shutdown drags on is not known.
"We're hoping for a quick resolution," McDonald said. "Many people are monitoring this continually, half-hour to half-hour."
Tribal council encouraged citizens to contact their Congressional representatives and let them know about the impact of the shutdown on the local community, McDonald said.
The tribe was not the only organization operating normally and anxiously eyeing the long-term effects of the shutdown.
"In the immediate future, we're distributing benefits as usual," said Jon Ebelt, spokesperson for the Montana Department of Public Health and Human Services, which coordinates most of the state's social welfare programs. "We are kind of taking a look at all of our programs for the long term. Right now it's kind of business as usual, but things can change very quickly."
Agencies that rely entirely on federal funds didn't have the ability to wait and see if Congress could agree to a solution before their bank accounts were emptied. The gates of the National Bison Range were closed with signage directing packages to the Moiese Mercantile and letting visitors know why range was not open. The shutdown came just days before the Bison Range's annual round-up. It was unknown when the round-up would be rescheduled.
Montana's National Guard was also immediately furloughed, drawing the disappointment of Governor Steve Bullock.
"But don't fool yourself into thinking that this shutdown doesn't matter — it impacts the services we expect from our federal government and over 10,000 Montana federal employees," Bullock said in an Oct. 1 press release. "This morning we had to send home nearly 600 Montana National Guard soldiers and airmen who are Department of Defense employees. We sent home more soldiers and airmen than there are members of the US Senate and House of Representatives combined.
"We can have legitimate differences over public policy, but it's embarrassing that the greatest country in the world would shut down our government based on nothing more than political brinksmanship."
Another 3,500 Montana National Guard members were not able to complete weekend drills as a result of the shutdown, according to a press release from Bullock's office. A small group of troops preparing for an overseas deployment continued to train.
As the shutdown continued, Congressman Steve Daines voted for a bill that would keep National Parks open during the shutdown.
"We are seeing firsthand, as we're listening to phone calls coming in from constituents across my state, the undue hardships that communities surrounding Glacier and Yellowstone National Parks are facing due to Washington, D.C.'s failures," Daines said in a speech on the House floor. "They're being directly affected by these parks being shut down—they depend on these parks for tourism, for economic growth, for jobs."
The bill passed in the House and but was blocked in the Senate by Harry Reid, who said the Republicans could not cherry pick the programs that are kept open.
Republicans fired back by saying that the resolution made no mention of the new federal healthcare mandate or birth control, which are at the center of the ongoing shutdown.
As the finger pointing continued, average citizens were expected to uphold their obligation to democracy by paying taxes by the Oct. 15 extension deadline. The Internal Revenue Service was accepting electronic filings and paper filings but not processing them, said Pat DeVries, of Berg and DeVries CPAs in Polson. People due a tax refund can expect delays.