SKC students prepare to help in Greece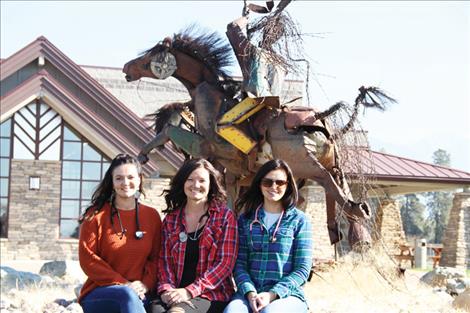 PABLO — Three students at SKC are making a name for themselves by creating an opportunity within the nursing school for students to get hands-on experience overseas.
Part of the Global Brigades initiative, third year nursing students Melissa Oden, Michelle Zempel, and Stephanie Robinson will lead a local cohort of 12 students lending medical help in Greece this July. Not only will the three be some of the first graduates of SKC's new four-year direct admit BSN degree program, but they're also the first to have initiated a project like this for the nursing program.
The three got their start with Global Brigades after finals week of the last quarter. The company had reached out looking for volunteers to join a fully funded medical brigade to Honduras that needed more people. They were the only ones who responded and in July they were sent off to South America.
"We jumped on it," Oden stated. "It was such an incredible experience that when we got home, we were like 'we have to do something like that again.'"
The students started their own chapter of Global Brigades for SKC at the start of the school year. They then reached out to Global Brigades see what countries they could be sent to that would work with the school year timeline. This summer, the initial three volunteers, (now co-presidents of the SKC chapter of Global Brigades), and nine other students will spend a week in Athens, Greece, to assist with medical care for refugees, asylum seekers and youths 12-18 without guardians.
"Our end goal is to try and fund everyone in the cohort that's going as much as we can through our fundraising so not a lot of people have to go out of pocket for this experience to help other cultures," Zempel explained.
The students estimate they'll need $40-50,000, depending on the price of flights, to get all 12 nursing students to Greece and lodge them for the week. And while Global Brigade provides medicine for volunteers to work with, they'll still need to bring some of their own supplies.
"We're looking for medical supplies and hygiene supplies also, donations for that kind of thing," Robinson added.
Though July is still several months away, the three are hitting the ground running to fundraise. Their first fundraiser will be a 5K run the day after Thanksgiving, which has no cost for participants. Instead, they encourage people to just give as they can without any barrier to entry. Sign-up begins at 9 a.m., with the run starting at 10 a.m. With face painting and a kids' section set up as well, the ladies said there'll be something for everyone.
Additional fundraisers will be announced throughout the year. To find out how to donate funds and supplies to the students, call Oden at 406-212-7766, or contribute directly to their Glacier Bank account named "SKC BSN Greece Trip."
"We have a really incredible opportunity to provide education as well as hands-on physical assistance," Oden stated. "The work that we're practicing, it gives us a great opportunity to provide culturally competent care by being exposed. There's no better teacher than experience."