Polson alumni celebrate Pirates anniversary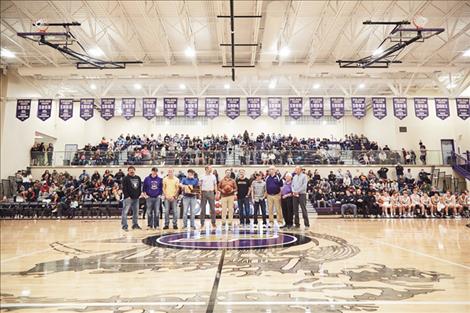 POLSON — In honor of the 30th anniversary of the 1993 Polson Pirates and Lady Pirates finishing first and second respectively in basketball, Linderman Gym hosted a reunion of the teams during the Polson vs. Ronan basketball games.
1993 was the first time the Polson Pirates won the boys state class a championship in basketball. Players of the team included Neal Smith, Jarod Tait, Josh Richards, Chad Smith, Kris McKethen, Jason Smith, Brad Walter, Erick Dickson, Jamie Veis, Todd Goode, Daniel Caye and Scott Evjee. The team was led by head coach Joe McKethen and assistant coaches Bruce Thomas and Steve Nelson.
The Pirates played Havre at the Butte Civic Center in the quarter finals, winning 66-59. They then faced Whitefish in the semis, coming away with a 56-52 victory to set up a meeting with Belgrade in the final. The game went to overtime, with Polson just edging out Belgrade 59-58. Some of the groups other highlights of the season was beating AA Missoula Big Sky away and upsetting Whitefish twice, who were the top team in the state.
The group went on to obtain eight college degrees, three joined the armed service, and one started a local business in Polson.
The Lady Pirates took second place that same season in what's still the programs highest finish. Players of that team included Jeannette Grey, Tasha Doornek-Skellenger, Julie Stene, Sara Gunderson, Sarah Hartsoch, Heather Knutson, Jaime Richards, Maribeth SanPedro, Brooke Doepke, Nicole Dubuque, Cheri Gunlock and Teesha Chadda. The team was coached by Bruce Thomas with assistant coaches Sue Moore and Steve Nelson.
The Lady Pirates took second in Divisionals, losing in the championship to Columbia Falls. This sent them to the Challenge Game, in which they face Ronan to see who would be the second team at the state tournament. Polson held on and won 59-52 to seal their spot at state. The following week, The Lady Pirates beat Sidney in the quarterfinals and Havre in the semifinals to make it to the championship game. Although they lost the final to Colstrip 53-48, they cemented their place as Polson's highest finishing girls basketball team, a record that still stands today.
(See additional photos on next page.)