Goode retires from Mission Valley Power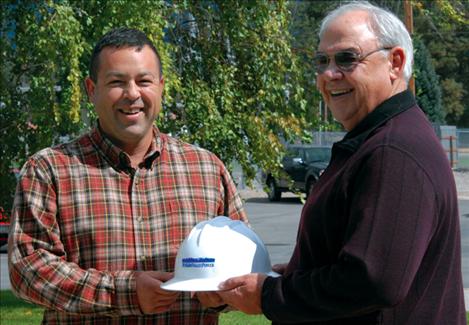 PABLO — Bad news: Ralph Goode is retiring as general manager of Mission Valley Power.
Good news: Jean Matt will be taking over the position.
Matt said, "I've had the opportunity to work with Ralph since July 28. He's showed me the ropes."
Goode joked, "It took about 10 minutes 'cause he's so young and smart."
Matt has enjoyed a chance to visit with MVP employees, drop by their desks and shake hands. He said there's a wonderful model at MVP, and he sees no reason to change it.
Management styles may differ a bit.
"Jean's going to do things differently than Ralph," Goode said. "That's the way it should be."
Bonneville Power's transfer rates will change in the next 12 months, and deciding how to implement the rates will challenge MVP, Goode said — and Matt agreed.
"I'm going to miss the staff and the customers. I'll meet them still, just in different circumstances," Goode said.
Goode served as MVP general manager for the last 15 years and worked for tribal forestry before MVP. Now he and his wife will be traveling. They are heading to the northeast United States to "look at the fall colors." A visit to New York City and a stop at Niagara Falls are also planned. "We'll try to avoid the winters, but we also have grandparent responsibilities," he added.
Matt comes to MVP from the Confederated Salish and Kootenai Forest Development Program, where he was manager for the past 11 years and an 18-year employee. A University of Montana grade, Matt and his wife Margaret have four children: Chloe, 11; Emily, 9; Sophia, 7; and Audrey, 5.