Volleyball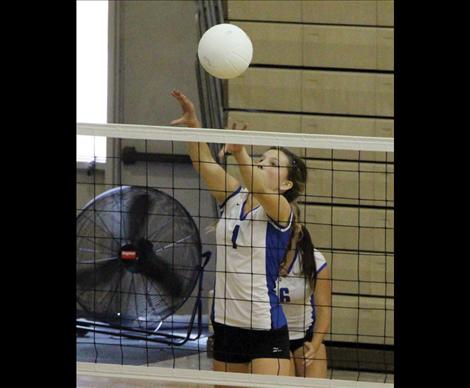 Arlee
CHARLO - The Scarlets battled highs and lows in their recent week of play, finding elation in a big win against conference powerhouse Charlo followed by a heartbreaking elimination in Alberton at the Mineral County Shootout.
At Charlo on Tuesday the Scarlets gave the Lady Vikings a run, defeating Charlo in five sets and coming home with the 3-2 win.
While winning the second and third sets, Charlo came back to win game four, forcing a fifth-set tie breaker and the Scarlets came out on top.
Violet Pablo came away with an impressive 25 digs and 14 kills for the Scarlets while Carly Hergett had four aces and four blocks. Becca Whitesell added 26 assists out of the Scarlets 31 total.
On Saturday the Scarlets headed south for tournament play at the Mineral County Shootout. While playing pool play at Alberton, the Scarlets failed to make it into the semifinal round. No scores or individual stats were reported.
The Scarlets court will see a busy week of play with Arlee hosting Superior Oct. 2, Two Eagle River Oct. 4 and Mission Oct. 7.
Results
Arlee def. Charlo 23-25, 25-23, 25-21, 13-25, 18-16.
Mission
ST. IGNATIUS – The Lady Bulldogs had a rough week, dropping two matches and bringing their season total to 4-4.
At home on Tuesday the Lady Bulldogs fell to Loyola-Sacred Heart in the shut-out conference game.
Jordyn Eichert tallied nine digs and 10 assists for the Lady Bulldogs and Lindsay Johnson had nine kills at the net.
On Thursday the Lady Bulldogs traveled to Bigfork for non-conference play against the Valkyries. After winning the first set 26-24, the Lady Bulldogs couldn't keep it together and lost the next three resulting, in the 1-3 loss.
Despite the loss the Lady Bulldogs showed strong defense with 58 total digs. Of those 58, Johnson dove for 14, also chipping in 11 kills. Trinity Lewandowski served up a pair of aces for Mission.
The Lady Bulldogs will host Charlo Oct. 4 and will head to Arlee Oct. 7.
Results
Loyola-Sacred Heart def. Mission 25-14, 25-12, 25-10.
Bigfork def. Mission 24-26, 25-10, 25-15, 25-9.
Polson
WHITEFISH – The Lady Pirates split a couple of conference matches bringing their conference total to 1-3 with a season record of 2-3 overall.
In Whitefish on Thursday, the Lady Pirates landed on the W side of a five set battle against Whitefish 3-2.
Of Polson's 36 assists, Senior Jaiden Toth was responsible for 33. Taylor Davis added 19 digs while Haley Fyant owned the net with 10 kills.
Hosting the Lady Loggers on Friday, the Lady Pirates saw the underside of a rug after Libby swept them 0-3.
Toth led again in assists setting all 20 of the Lady Pirates tally. Lady Pirate Libby Clay had 24 digs.
Next up for the Lady Pirates will be a match in Stevensville Oct. 4.
Results
Polson def. Whitefish 25-21, 11-25, 25-17, 17-25, 15-13.
Libby def. Polson25-12, 25-23, 25-22.
Ronan
RONAN – The Maidens faced a hard knocks kind of week, taking a couple of hits and bringing their season record to 1-7.
On Tuesday the Maidens hosted Stillwater Christian, suffering a 0-3 defeat.
Despite the loss, Kendra Starkel led the Maidens in digs with 16.
At Florence Friday, the Maidens took a bump in another shutout, falling to the Lady Falcons 0-3.
Starkel took the helm for the Maidens once again, leading in digs with 18 and adding six kills and two blocks. Jordan Clairmont chipped in seven assists.
The Maidens will take a break this week with matches coming up Oct. 9 in Troy and Oct. 11 in Thompson Falls.
Results
Stillwater Christian def. Ronan 25-16, 25-22, 25-17.
Florence def. Ronan 25-21, 25-17, 25-13.
Two Eagle River
NOXON – Two Eagle River picked up their first win of the season during tournament play after dropping one to Noxon earlier in the week.
On Thursday the Lady Eagles fell to Noxon in three straight sets, 12-25, 21-25, 14-25.
Despite the loss, Misty Mendoza picked up four aces for the Lady Eagles while Casadi Wunderlich had four digs.
Saturday the Lady Eagles faced elimination after pool play at the Minieral County Shootout Tournament but not before finding success against Hot Springs, leaving with a 1-3 record for the tournament.
The Lady Eagles will face a busy schedule with matches on the road against Charlo Oct. 2 and Hot Springs Oct. 3. The ladies will return home to host Arlee Oct.4.
Results
Noxon def. Two Eagle River 25-12, 25-21, 25-14.