Wrestling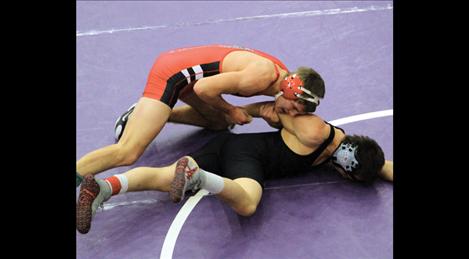 Rocky Mountain Classic
MISSOULA – The Chiefs and the Pirates competed at the Rocky Mountain Classic Friday and Saturday facing teams from Lewiston to Coeur d'Alene, Idaho.
Out of the 34 teams with qualifying team scores, Ronan fared the best, placing 25th with a team score of 47.5. Polson placed 27th with a score of 44.
Chiefs Cole Snyder and Hunter Peterson were the only two wrestlers to place individually with Snyder taking fourth after a consolation round loss and Hunter Peterson found a sixth-place spot after falling in a bout for fifth.
Polson did not have any wrestlers reach semifinal rounds.
.
Ronan vs. Mission-Charlo
The Chiefs slammed all over the Bulldogs in Mission, ruling the mats with of score of 52 to Mission's 21.
Chiefs Seth Cheff (120), Happy Cheff (138), Jared Neiss (145), Jesse Herrera (160) and Luiz Gonzalez (205) all won with pins with Seth Cheff posting an impressive 0:18 take down.
Trent Dennison (152), Gus Bosley (170), Steven Bravo (182) and Ethan Goss-Dickie (285) had pin wins for Mission-Charlo.
Polson vs.
Columbia Falls
The Pirates had a tough day facing Wildcat grapplers at home, falling 27-41 to Columbia Falls.
Pirates Cameron Brown (113), Parker Adler (120), Colton Cote (152), Tele Seemann (170) and Mike Corrigan (205) all won their matches with Brown, Cote, Seemann and Corrigan winning with pins.
Arlee and Mission-Charlo also participated in the Choteau Invitational last weekend but no results were reported.
Next up for the Valley's grapplers will be a road trip for Arlee as the Warriors head to Deer Lodge Thursday and then on to Eureka Friday. The Bulldogs will head to Bigfork Thursday and then will return home Saturday to host the Mission Mountain Classic. Polson will be in Columbia Falls Friday and Ronan will travel to Bigfork Thursday and then will join the Bulldogs in Eureka Saturday.
Results
Rocky Mountain Classic
Team scores - Havre 219.5; Great Falls 198.5; University 141.5; Central Valley 136; Missoula Sentinel 132; Lewiston 121; Clarkston 112.5; Powell 108.5; Missoula Big Sky 107.5; Coeur d'Alene 100; Columbia Falls 82; Helena Capital 77; Lake City 76; Mead 75; Great Falls CMR; Kalispell Glacier 72.5; Kalispell Flathead 79; Helena 67; Libby 55.5; Belgrade 52.5; Hamilton 52; Bozeman 51; Corvallis; Ferris 49.5; Ronan 47.5; Lewistown 45.5; Polson 44; Frenchtown 35; Missoula Hellgate 30; Florence 20; Butte 16; Bonners Ferry 13; Superior 3
Ronan vs Mission-Charlo
103 - Spencer Stagg (Ron) win by forfeit
113 -Hunter Peterson (Ron) maj. dec. Bailey Wieble 14-2
120 - Seth Cheff (Ron) pin Danny Hill 0:18
126 - Casey Resch (Ron) win by forfeit
132 - Cole Snyder (Ron) win by forfeit
138 - Happy Cheff (Ron) pin Troy Mitchell 1:16
145 - Jared Neiss (Ron) pin Jay Wadsworth 0:55
152 - Trent Dennison (MC) pin Steven Michal 2:27
160 - Jesse Herrera (Ron) pin Andy Hohenauer 1:05
170 - Gus Bosley (MC) pin Graydon Irish 1:27
182 - Steven Bravo (MC) pin Kale Cheff 1:37
205 - Lois Gonzalez (Ron) pin Chris Anderson 1:23
285 - Ethan Goss-Dickie (MC) dec Michael Irvine 2-1 (3 OT)
Polson vs. Columbia Falls
103 - Austin Nelson (CF) pin Mateo Quinones 2:14
113 - Cameron Brown (Pol) pin Winfield West 1:26
120 - Parker Adler (Pol) dec. Mason Fetters 11-9 OT
126 - Haze Bell (CF) maj. dec. Thunder Morales 9-1
132 - Kaleb Gravelin (CF) dec. Jaben Wenzel 5-2
138 - Shonn Roberts (CF) pin Skylar Knutson 1:32
145 - Colton Gove (CF) pin Alex Helgeson 2:23
152 - Colton Cote (Pin) pin Cody Watters 3:24
160 - Storm Kemppainen (CF) maj. dec. Noah Humphrey 9-0
170 - Tel Seemann (Pol) pin Miguel Garate 3:17
182 - Mike Dennison (CF) won by forfeit
205 - Mike Corrigan (Pol) pin Ike Schweikert 1:14
285 - Spencer Ross (CF) pin Isaiah Williams 1:05