Two Eagle River crushes Noxon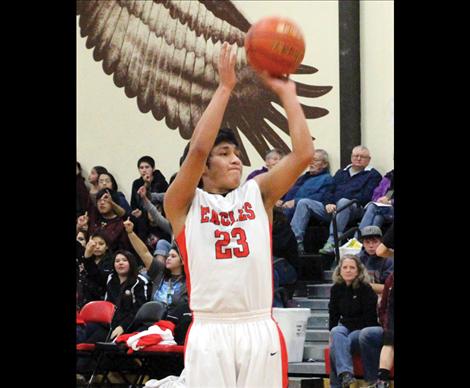 HOT SPRINGS – The Eagles have boosted their conference record to an even .500 after last week's split while battling two formidable 14-C rivals.
At Hot Springs on Friday, the Eagles took a splinter in the knee after a gripping 50-55 contest against the Savage Heat.
After taking a tough deficit in the first quarter of play, the Eagles rallied back to outscore the Savage Heat in the next two, but it wasn't enough to reach the top, leaving the Eagles to go home with the loss.
Despite the fall, Eagle Alex Quequesah gave a wowing performance, scoring 26 for Two Eagle River.
Saturday at home the Eagles tossed in a dominating 36 points in the net, paving the way for Two Eagle to pick up the 14-C crushing 80-34 win against Noxon's Red Devils.
Four Eagles logged double digits with Quequesah leading the pack netting 16. Julian Cutfinger added 13 while Dante McDougall and Eugene Parker chipped in 11 apiece.
The Eagles will head to Charlo Friday and then to Victor Saturday.
Results
Two Eagle River 11 12 16 11 – 50
Hot Springs 17 10 14 14 – 55
Alex Quequesah 26, Kollin Wroblewski 9, Julian Cutfinger 5, Isaiah Mathias 5, Josiah Whitworth 2, Chino Lira 2, Eugene Parker 1.
Two Eagle River 35 13 21 11 – 80
Noxon 11 9 7 7 – 34
Alex Quequesah 16, Julian Cutfinger 13, Eugene Parker 11, Dante McDougall 11, Kollin Wroblewski 9, Chino Lira 9, Isaiah Mathias 7, Josiah Whitworth 4.