boys basketball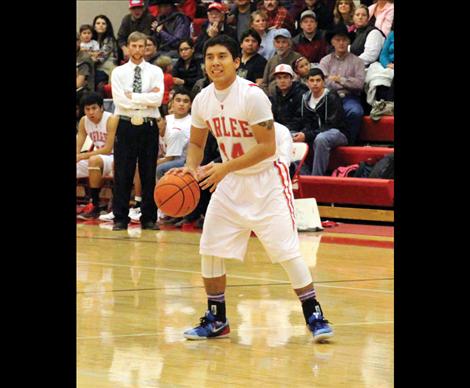 Arlee
ARLEE – The Warriors continue to rip through competition, remaining undefeated on the court while bringing their season totals to 9-0 in league play and 16-0 overall.
At home Friday the Warriors hosted the Bulldogs. While going into the fourth frame a single point separated the two teams, but the Warriors pulled ahead outscoring the Bulldogs 26-11 in the final quarter to capture the 76-62 win.
Warrior Justis Haynes high scored both teams, netting 19. Patrick BigSam and Phillip Malatare chipped in 15 apiece.
Saturday the Warriors squashed the Red Devils after easily snatching away the 69-34 14-C win in Noxon.
After leading by six the first quarter, Arlee secured the victory in the middle frames, outscoring the Red Devils by 32 points.
The Warriors arsenal of 10 scorers paced the win, led by BigSam with 12 points. Malatare scored 11 and Bradley Brazill snuck in right behind with 10.
The Warriors will finish up their regular season with a pair of 14-C matchups beginning with a rival ripple battle in Charlo against the Warriors old Viking foes on Friday. Two Eagle River will take the Warriors court Saturday.
Results
Arlee 16 17 17 26 – 76
Mission 15 16 20 11 – 62
Justis Haynes 19, Patrick BigSam 15, Phillip Malatare 15, Isaac Desjarlais 9, Tyler Tanner 9, Riley Rogers 5, Chance Brazill 4.
Arlee 20 23 20 6 – 69
Noxon 14 4 7 9 – 34
Patrick BigSam 12, Phillip Malatare 11, Bradley Brazill 10, Tyler Tanner 9, Isaac Desjarlais 8, Justis Haynes 8, Riley Rogers 5, Zach Felsman 2, Chance Brazill 2, Milo Bighead 2.
Charlo
CHARLO – The Vikings dropped a duo of contests in their last week of play bringing them to a 7-9 overall season record and 6-4 in conference.
Friday the Vikings hosted Superior falling to the Bobcats 34-42 in the 14-C game. Although a strong second half brought the Vikings closer to the prize the gap was just too wide for the Vikings to close.
Dalton Delaney and Dugan Runkel combined to score more than half of the Vikings points with Delaney netting 11 and Runkel logging 10.
In Philipsburg Saturday, the Vikings took a tumble against Granite as the Prospectors sent Charlo home with the 46-60 loss.
Despite the loss, Viking Kobe Cox high scored both teams tossing in 22.
The Vikings will finish up their regular season hosting Arlee Friday and then will play their last game at Hot Springs challenging the Savage Heat Saturday.
Results
Charlo 3 5 12 14 – 34
Superior 12 11 9 10 – 42
Dalton Delaney 11, Dugan Runkel 10, Tyson Petticrew 6, Kobe Cox 4, Maverick Nelson 2, Jesse Long 1.
Charlo 9 4 14 19 – 46
Granite 16 13 14 15 – 60
Kobe Cox 22, Dalton Delaney 8, Dugan Runkel 8, Michael Delaney 4, Jesse Long 4.
Polson
EUREKA – The Pirates picked up a split in their last week of play leaving them with a 4-10 overall season total, 1-4 in conference.
Thursday the Pirates toasted Eureka 70-59 on the Lions own court. After falling behind in the first quarter the Pirates kicked it into overdrive, outscoring the Lions in the second and fourth frames with Pirates Matthew Rensvold, Tanner Wilson and Andrew Curley leading the way to a Polson victory.
Rensvold posted the high score for the Pirates with 22 while Wilson added 14 and Curley finished with 13 Pirate points.
Saturday the Pirates traveled to Columbia Falls to challenge Northwestern A rival Wildcats. After an intense back and forth battle, the Pirates lost a grip in the fourth quarter, giving the Wildcats the edge that sent the Pirates home with the 59-62 conference loss.
Curley put up 23 on the board, high scoring both teams. Rensvold chipped in 12 and Wilson posted 10.
The Pirates will take on the Chiefs in Ronan Thursday and then will return to host Libby on Saturday.
Results
Polson 15 20 16 19 – 70
Eureka 20 13 16 10 – 59
Matthew Rensvold 22, Tanner Wilson 14, Andrew Curley 13, Payton Lefthand 9, Derek Peel 8, Joe Gallatin 4.
Polson 11 19 16 13 – 59
Columbia Falls 16 14 13 19 – 62
Andrew Curley 23, Matthew Rensvold 12, Tanner Wilson 10, Derek Peel 7, Joe Gallatin 5, Chris McDonald 2.
Ronan
RONAN – The Chiefs faced a double trouble pair of losses over the last week, bringing them to 6-10 on the season.
Friday the Chiefs fell 44-52 in a 6B face off at Deer Lodge leaving the Chiefs with a 2-5 conference record with only a single league game left to play.
Despite the loss, Chief Cedric Earthboy led all scorers netting 17 and Jeremiah North Piegan added 12.
At home Saturday the Chiefs faced a two-point disappointment after falling at the hands of Troy's Trojans. Though the Chiefs staged a fourth quarter 24 point rally, it was just a hair shy to overcome the gap, leaving the Chiefs with the 55-57 heartbreaker.
Earthboy matched his earlier score, tossing in 17 for the Chiefs while North Piegan and Justin Krahn each chipped in nine.
The Chiefs will finish up their regular season with a couple of home games. Polson will meet the Chiefs in Ronan Thursday and then final game will be Saturday in a toe-to-toe battle with 6B foe and neighboring Mission Bulldogs.
Results
Ronan 12 11 13 8 – 44
Deer Lodge 18 11 13 12 – 52
Cedric Earthboy 17, Jeremiah North Piegan 12, Colton McCrea 6, Bryce Cullen 5, Justin Krahn 2, July Sorrell 2.
Ronan 13 8 10 24 – 55
Troy 10 16 18 13 – 57
Cedric Earthboy 17, Jeremiah North Piegan 9, Justin Krahn 9, Zeke Misa 8, Colton McCrea 6, July Sorrell 6.