Museum opens for summer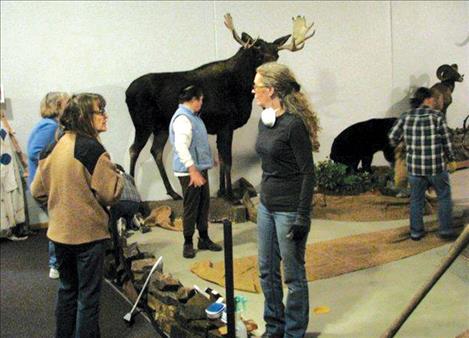 News from Ninepipes Museum of Early Montana
CHARLO – The Ninepipes Museum of Early Montana welcomed spring by opening its doors for the 2015 season on April 1. Over the winter we held our annual Black Tie Dinner fundraiser on Jan.15. It was a great chance to see friends of the museum and raise funds for operational expenses. Jo Cheff oversaw a big cleaning project in the diorama room in March, where a number of volunteers helped remove the dried plant materials, took up the burlap flooring, and cleaned and dusted the area where the mounted wildlife is on display. Aspen limbs were added to the east wall to stage a more realistic marsh area for the moose and other critters, and at some point in the spring, fresh sage cuttings will be brought in and added to the nature setting. New to the gift shop are some display boxes made by students from the Ronan High School Advanced Shop Class with instructor Hap Cheff. They were designed and built to resemble old-style apple boxes, and they add a rustic reminder of the days when merchandise was displayed in boxes.
We look forward to welcoming new and old friends 9 a.m.-5 p.m. Mondays through Saturdays through Nov. 28.
We plan to hold our second annual series of "First Saturday" artists, so keep your eyes peeled for notification of the line-up. If you would like to schedule a group tour, please call the museum at (406) 644-3435.