Lake County Track Meet hosts local athletic talent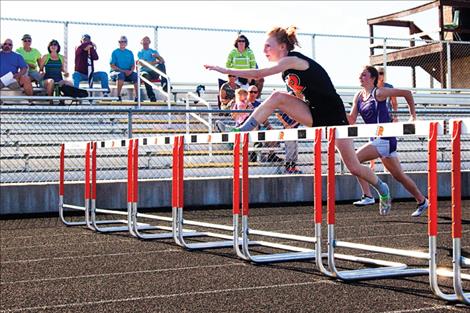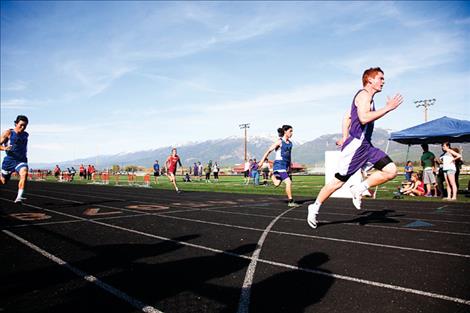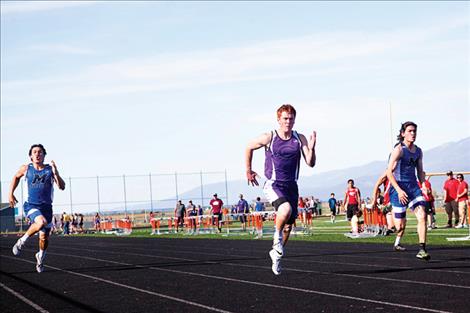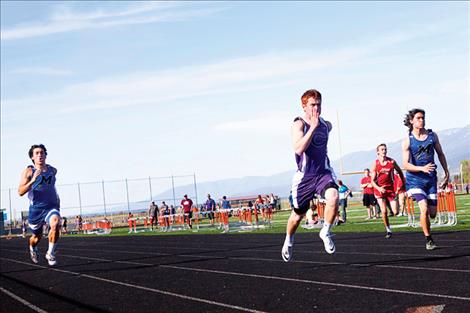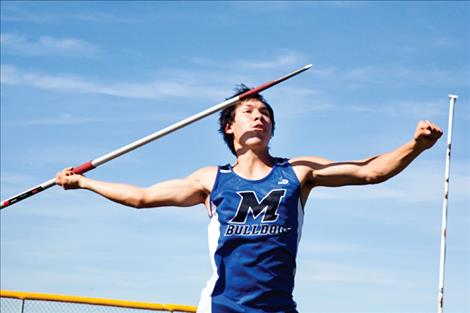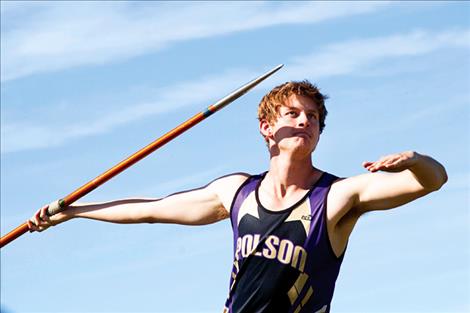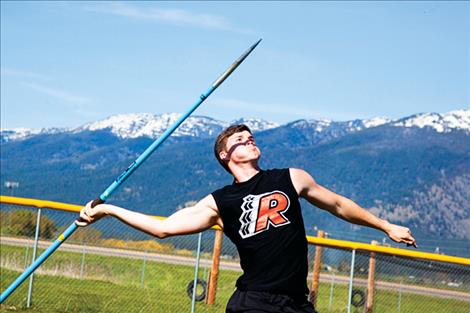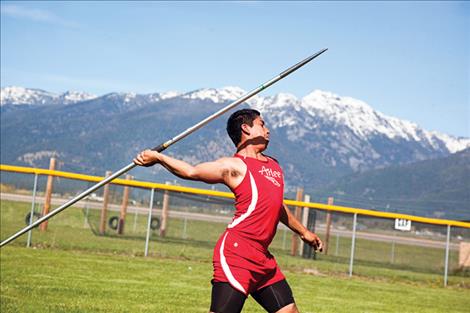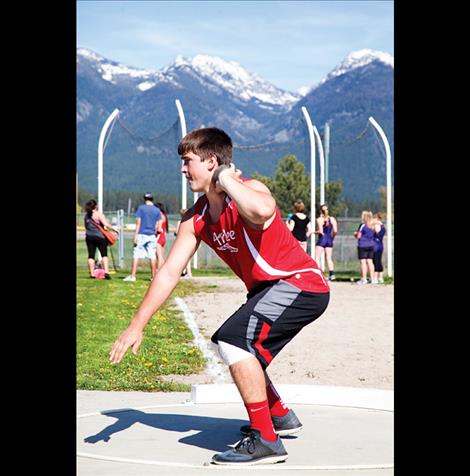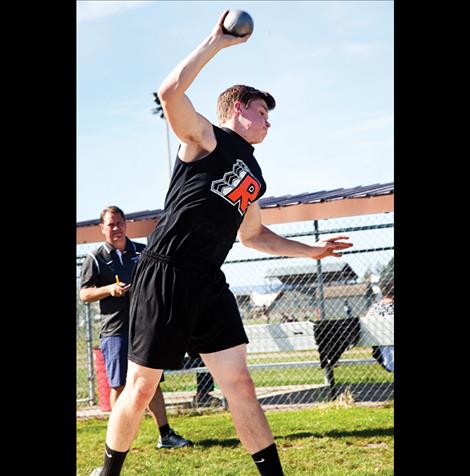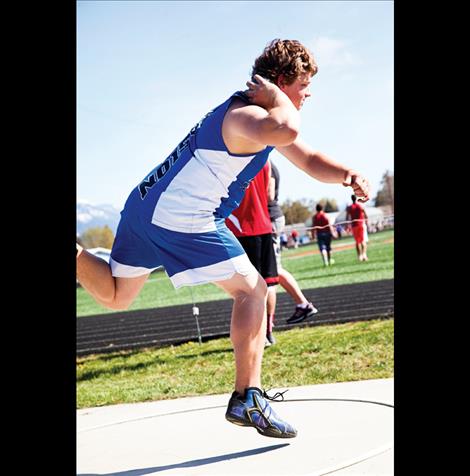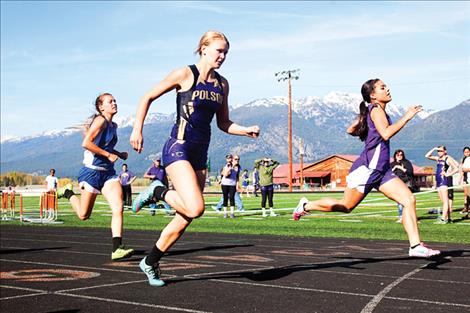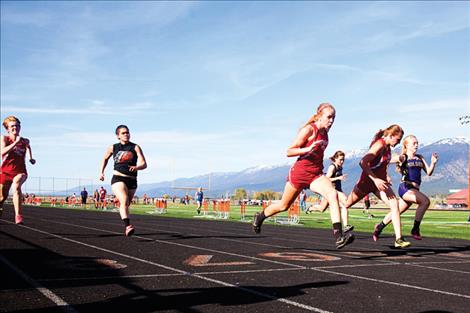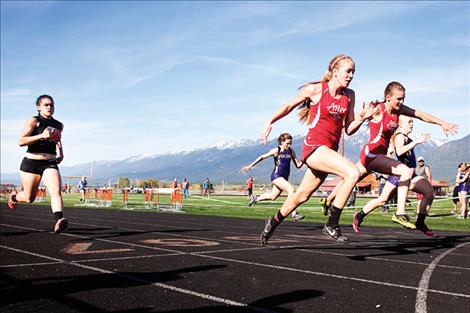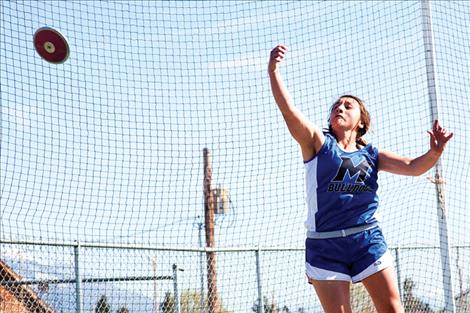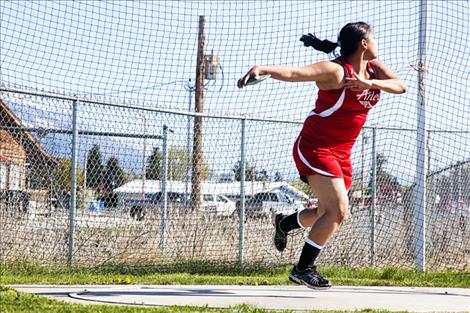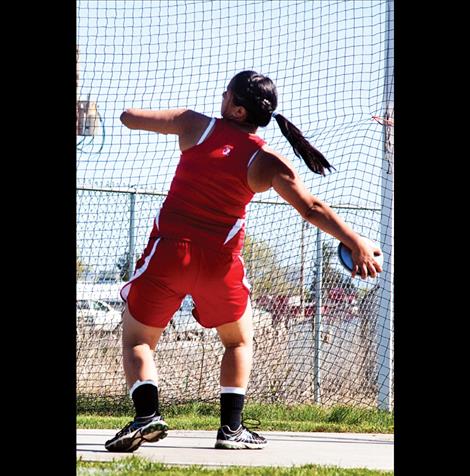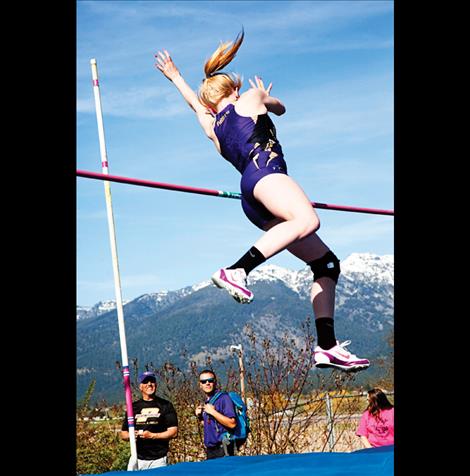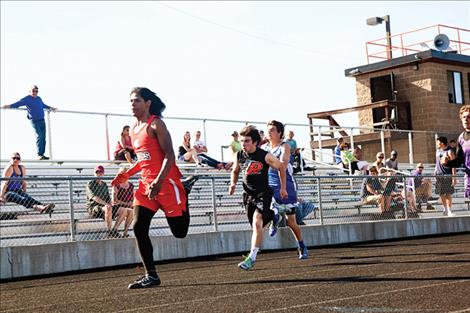 ‹
›
RONAN – Flashes of orange, purple, blue and red rocketed by spectators on Thursday as track and field athletes from all six valley high schools came together to compete at the Ronan-hosted meet.
While every school boasted an individual first place in one or more events, Charlo's Vikings and Arlee's Scarlets dominated the running events with several athletes coming home with gold.
But Polson picked up points all over the board, resulting in both the Pirate and Lady Pirate teams going home with first place overall.
Arlee
The Scarlets must have strapped on their lightning sneakers Thursday as they placed first in five of the track events.
Leading for the Scarlets was Ashley Revis who grabbed first in both the 100m (13.324) and 200m (27.2) races. Revis also helped out in the relay department as the Scarlets finished first in the 400m and second in the short relay race, which Revis anchored.
Also finding a top podium spot for the Scarlets was Bryndle Goyins who crossed the 400m finish line first (1:03.437) and Becca Whitesell as she took on the 1600 run, finishing with a first place time of 5:57. Goyins also placed second in the javelin event after firing 106-6.
Scarlet Alex Adams went home with a couple of silvers after placing second in the 100m (13.346) and pole vault (9-0).
Rounding out the top five for the Scarlets was Carly Hergett placing third in the long jump, fourth placers Shawntaya Nelson (400m) and Goyins (HJ), while Megan Shick (3200), Abby Yokum (300h) and Revis (Disc, LJ) each placed fifth.
The Warriors also enjoyed some top glory as Isaac Desjarlais placed first in the 400m with a time of 49.379 and Kyler Clinkenbeard launched 38-0 for gold in the triple jump. Clinkenbeard also placed third in the long jump and fourth in the high jump.
Arlee boys' relay teams placed first in the 400m and second in the 100.
Silvers included Zach Felsman (800m-2:16.627) and Leondre Bolen (TJ-37-11) and third place went to PJ Haynes (Jav). Haynes also picked up a fifth place finish (100m) along with Felsman (1600) and Harold Yokum (300h).
Charlo
Charlo's Vikings flew past their competition on the track with Delaneys leading the way.
Michael Delaney grabbed gold in both the 100 and 200m races with finish line times of 11:454 and 23:315 and Dalton Delaney cleaned up on the long track placing first in the 1600m (4:47.013) and 3200 (10:42.343).
Trent Dennison finished the 800m run with a time of 2:13.186, good for a first place, while the relay teams placed first in the 100 and second in the 400.
Coming in second for the Vikings were Michael Delaney (300h-41:567) and Dugan Runkel (SP-44-5.5) while bronze went to Jesse Long (110h) and Kyle Couture (PV). Fourth place went to Bridger Smith (Jav) and Runkel (Disc) and fifth went to Chandler Krahn (400m) and Brady Fryberger (3200).
Lady Vikings Shayna Nagy and Brooklyn Foust were the only two Charlo girls to top the charts. Nagy won the 800m run with a time of 2:45.757 and Foust crossed the line first in the 3200, finishing in 12:56.293.
Foust and Nagy also placed second and third in the 1600 with Foust posting a 5:58 second place time and Nagy finishing with bronze.
Nagy's sister Cheyenne Nagy finished with a pair of silvers in the hurdle races with a 100 hurdle time of 18.024 and a 300 meter time of 51.417. Lindsey Tryon placed second in the shot put event (31-6).
The Lady Vikings came away without a bronze winner, but Sienna Brown came close with a fourth place finish (200m) and a pair of fifth places (100m, HJ).
Mission
Bulldog Raymond Matt was the only Mission athlete to take home gold after clearing 152-0 in the javelin throw. Matt also finished fourth in the 100m and fifth in the triple jump.
Nick Durglo picked up a couple second-placers, taking a silver in the 100m (11.743) and 200m races (23.732) and grabbing third in the discus throw. Tyler Spidel (SP) and Tate Weingart (TJ) each placed third in their events.
For the Lady Bulldogs, Auxie Cates fared the best after earning silver with a 93-2.5 discus toss and placed fifth in the pole vault. Trinity Lewandowski added to her team's score with a bronze at the triple jump pit and a fourth place finish in both hurdle races. Sydney Castor was right behind with a fourth place triple jump score.
Polson
The Pirates and Lady Pirates lit up the top five with both teams posting enough points to lift themselves into first overall with team scores of 125.3 for the boys and 178 for the girls.
Pirate Jacob Clairmont made his presence known both on the track and in the field placing first three times and adding a silver finish to his arsenal of victories. Clairmont placed first in both the 110m and 300m hurdle races, posting times of 15:465 and 41.567, and cleared 13-3 over the bar in the pole vault event. He took second in long jump (19-8).
Also grabbing gold for the Pirates was Michael Corrigan, tossing 129-4 at the discus field for a first place finish.
Pirate second placers included Colton Cote (400m-52.052) and Walter Wood (HJ-5-2) and third went to Matthew Rensvold (400m), Parker Adler (800m, PV), Mike Mercer (1600, 3200) and Cote (200m).
Placing fourth was Mike Corrigan (SP), Wood (200m), Mercer (800m) and Cote (300h) while fifth went to Eric Matt (SP).
The Lady Pirates combined to form the highest team score of the day with five top finishers and many more in medal territory with a core group of girls that saw their names in multiple events riding the top three.
Madison Wheeler, Mariah Corrigan, Erin Sampson, and Lydia Bowman all brought home gold for the Lady Pirates.
Wheeler placed first in the 300 hurdles, posting a time of 50.587 while Corrigan out-threw all other competitors in the discus event, landing 97-5.
After spearing a long 119-3 in javelin — 13 feet longer than second place —Sampson picked up first place and Bowman launched 9-6 for first in the pole vault and also ran a leg of the 100 relay, helping the Lady Pirates win the race.
Finishing in second for the Lady Pirates was Bowman (200m-27.677), Tiara Duford (400m-1:03.481), Naima Crowl (3200-15:09.779), Gracie Carlyle (LJ-15-9) and Wheeler (TJ-30-0) while third place included Charlee Cote (400m, PV), Hannah Kasnitz (300h), Wheeler (300h), Duford (100m), Corrigan (SP, Jav), Sampson (Disc), and Carlyle (HJ).
Fourth places went to Chadelle Smith (100m), Malia Seeley (1600m), Darbee Jore-Lytle (PV) and Crowl (800m) while fifth went to Faith Olson (400m), Seeley (800), Smith (200m), Kasnitz (100h), Sampson (SP) and Bowman (Jav).
Ronan
Ronan girls placed second overall on own their own turf while the boys slipped into third as a team.
Maiden Lee Camel made her stamp in the sand as she brought her team two first place finishes in the long jump, landing 16-4 and clearing 34-3 for gold in the triple jump event.
Along with Camel Aspen Jore, Alex Dennis and Sydnee Clairmont also picked up first place endings with Dennis crossing the 110 hurdle line first with a time of 17.28 and Jore dominated the shot put pit launching 35-10, five feet farther than the second place distance. Clairmont cleared 5-0 in the high jump for gold.
Coming in second for the Maidens was Penni Weyent (800m-2:47.515) and Ally Buhr (HJ-4-10) while Ashley Peterson (800m), Sarah McKenzie ((3200) and Dennis (200m) all placed third.
Maidens Alicia Camel (Disc, SP), Micalann McCrea (Jav) and Clairmont (LJ) placed fourth with Clairmont also picking up a fifth place finish in the triple jump along with Weyent, who placed fifth in the 1600m run.
For the Warriors, it was Cole Gerhardt that tackled the top spots with a first place finish in shot put after hurling 45-3.75 and silvers in the discus with a distance of 127-6.5 and in javelin landing (142-10).
Chief Zeke Misa also placed first for Ronan, clearing 5-10 in the high jump.
Placing second for the Chiefs was Jackson Duffey in both the 1600 (4:52.24) and 3200m runs (10:53.059, Bryce Cullen (110h-16.349) and Tyler Houle (PV-11-6).
Bronzes went to Trevor Anderson (HJ) and Cullen (300h) with Collin McGuyer (400m), Nate Dennis (3200), Tate Lipscomb (110h) and Anderson (TJ) all placing fourth in their events.
Fifth placers were Gennaro Berna (800m), Aaron Misa (110h), Kasey Mock (Disc, Jav), McGuyer (200m) and Anderson (LJ).
Two Eagle River
While the Lady Eagles had a tough time placing, Eagle Kamiah Payne and Comfort Bolen brushed the top five with a Payne taking charge in the long jump event. Payne kicked up sand with a solid 19-10.75 landing grabbing gold for the Eagles while Bolen placed third in the 100m and fourth in the long jump.
Up next for the valley teams will be Class C Districts for Arlee, Charlo and Two Eagle River, hosted in Polson on Thursday. Polson will return home to host their final meet of the season Saturday before heading to the Northwestern A Divisional meet starting May 15 in Libby. Ronan and Mission will bus it to Missoula May 8 for some Class B District competition.
Results
Boys
Team scores – Polson 125.3; Charlo 110; Ronan 107; Arlee 79.67; Mission 60; Two Eagle River 20
Girls
Team scores – Polson 178; Ronan 132; Arlee 105; Charlo 79; Mission 26