Two Eagle River seniors charge up ladies' basketball team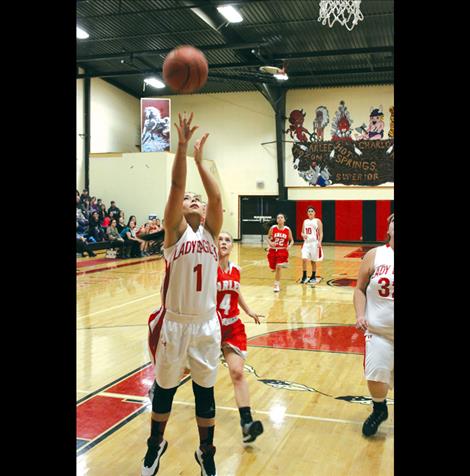 The Two Eagle River School girls' basketball team is having a stronger second half of their season than the first, according to Head Coach Pearl Yellowman. The Eagles have turned to their four seniors: Tyra Michel, Casadi Rainn Wunderlich, Misty Blue Mendoza, and Shay-Lyn Andrew for guidance on and off the court.
"The seniors have kept underclassmen in line and stepped up their leadership," Yellowman said. "They are communicating more and keeping the tempo up in practice and games."
Yellowman is excited to see that "middle of the season challenges" pushed the girls to become a tougher lineup.
"I think the team had to overcome a lot in the middle of their season," Yellowman said. "It was tough during that time, but now we are a lot stronger because of that."
Despite their 74-43 home loss against Arlee on Friday, junior Esperanza Orozco is pleased that the team is communicating more on the court.
"We have become really good at talking on the court," Orozco said. "I think that is something that we struggled with at the beginning of the season, but now it is one of our strengths."
Orozco added that defending the hoop is a contributing force to their success.
"We lock it down on defense and I think that helps our team be more competitive," Orozco said. "Defense wins basketball games."
As for skills the team needs to sharpen up on before tournament time, Orozco believes that practicing their plays and making better passes will help them succeed.
"We are running our plays but we need to run them through all the way," Orozco said. "We also could work on passing the ball around the court until we find the open shot."
Wunderlich led the Eagles in their game against Arlee with 18 points while Michel chipped in 15 and Mendoza added four.
Two Eagle River School girls have had to overcome a lot this yea, according to Yellowman. With the end of their season coming to an end, Yellowman is happy she has had the opportunity to coach this team.
"I am really proud of the whole team for overcoming challenges on and off the court," Yellowman said. "I am a proud coach."
Yellowman is excited to see how her seasoned team will match up with other conference teams that have improved throughout the season as well.
"At the end of the season, every team in the conference is going to be bigger and better — and so are we," Yellowman said.
The Eagles will head to their District Tournament on Thursday, Feb. 18.
Feb. 12
Arlee 74, Two Eagle River 43
Arlee9222320-74
Two Eagle7772-43
Two Eagle River – Points: Casadi Rainn Wunderlich 18, Tyra Michel 15, Misty Mendoza 4, Kristan Hewankorn 2, Esperanza Orozco 2, and Naomi Stevens 2.
Arlee – Points: Carly Hergett 15, Bryndle Goyins 15, Megan Shick 11, Noelle West 8, Alyssia Vanderburg 8, Abby Yocuum 4, Megan Reed 4, Ella Lindberg 3, Morgan Malatare 3.