Protect and serve
Law enforcement gathers to remember fallen heroes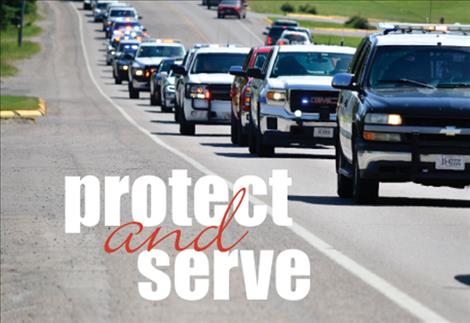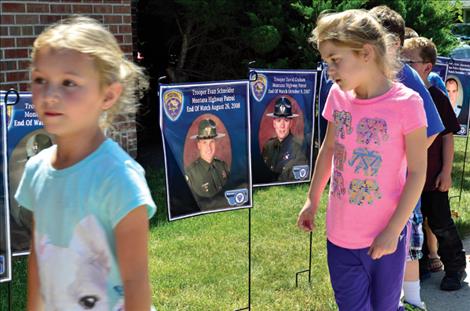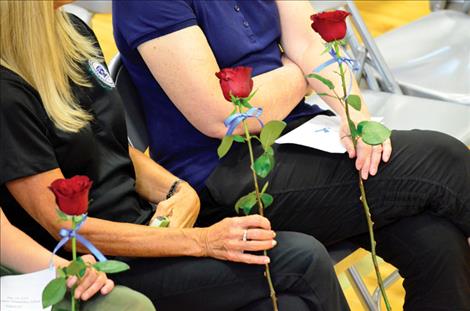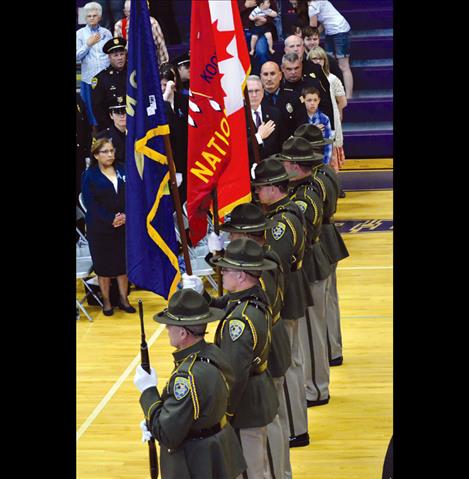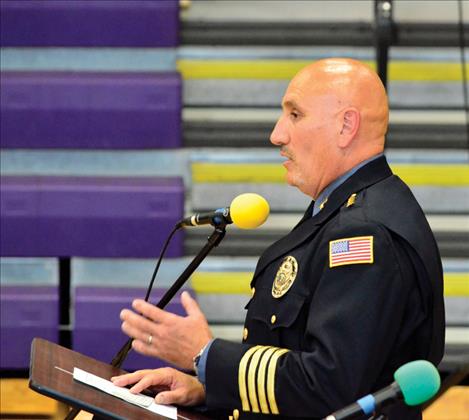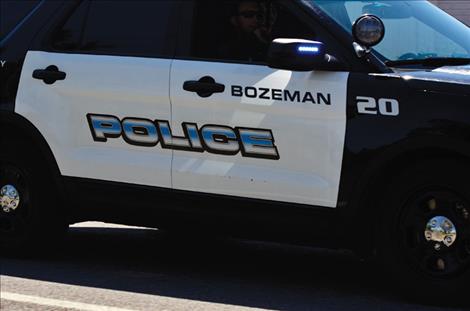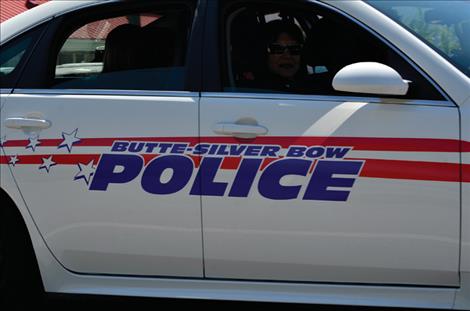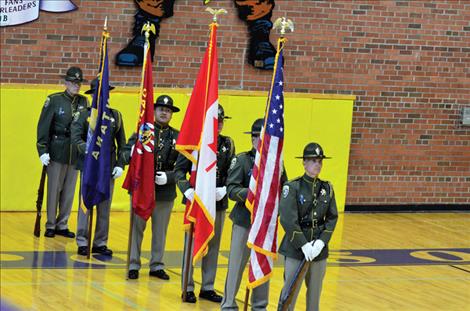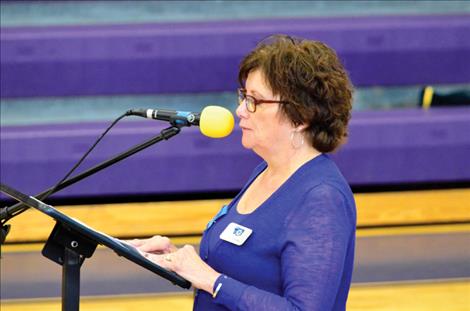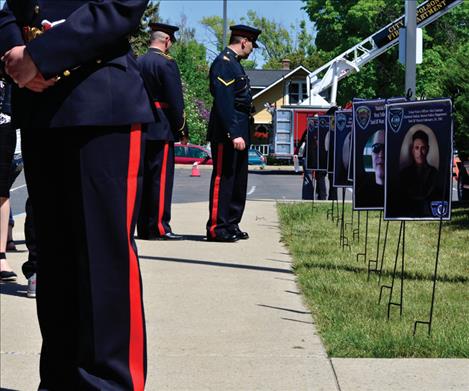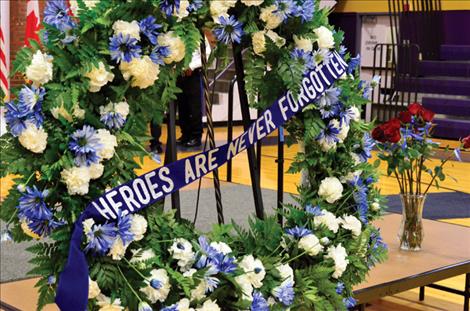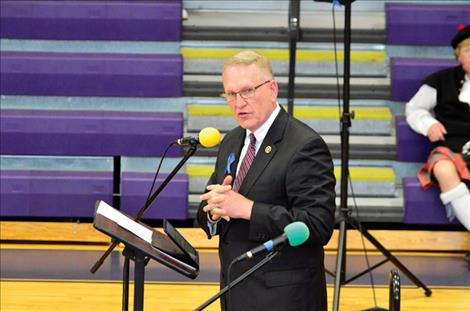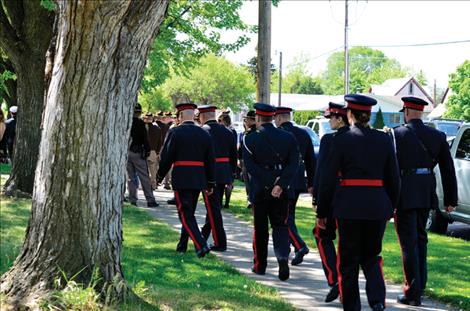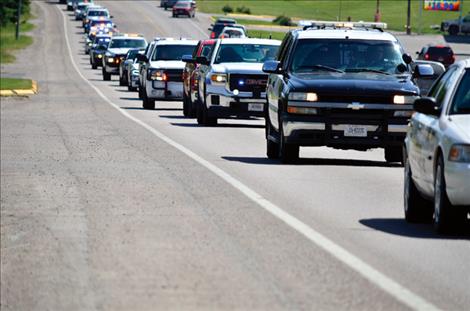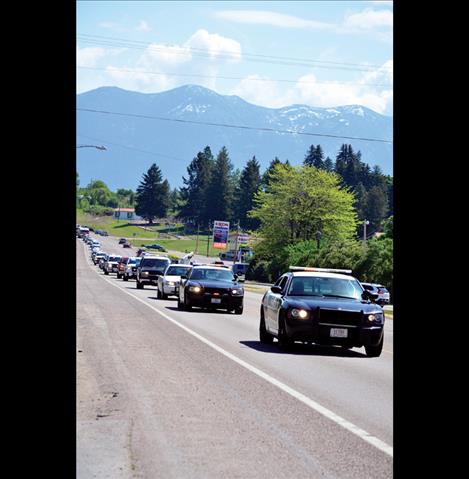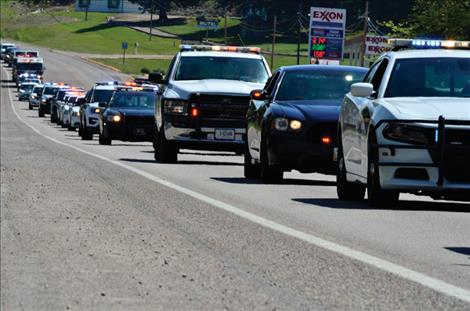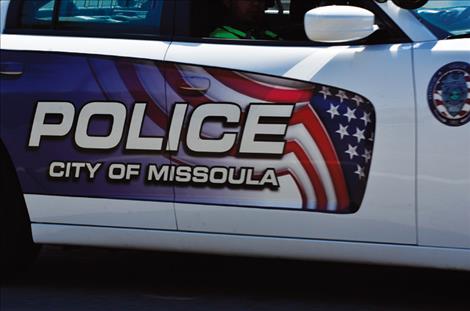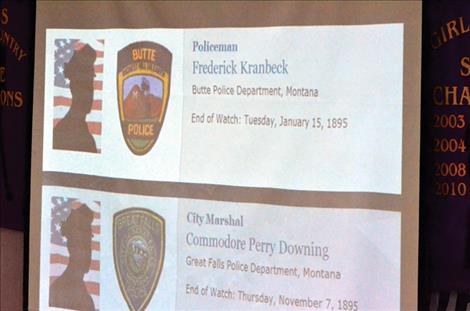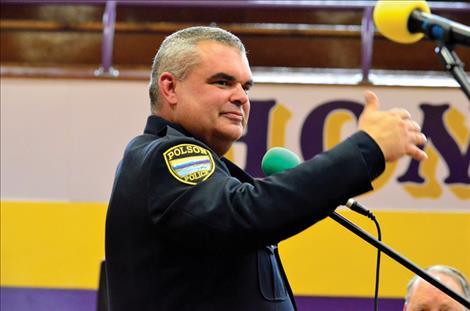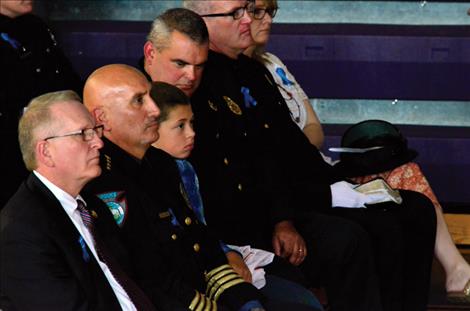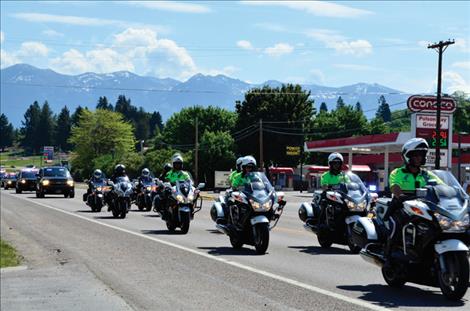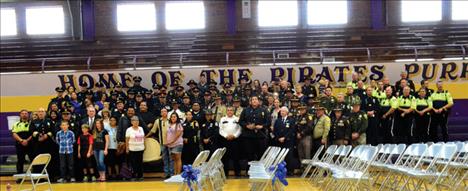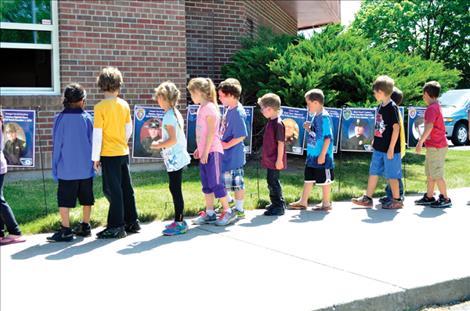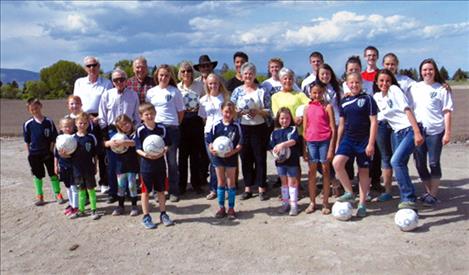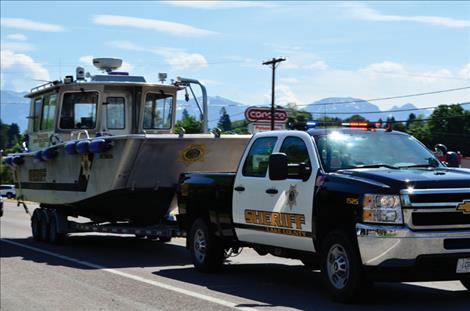 ‹
›
Dozens of law enforcement officers followed the parade route on U.S. Highway 93 in their vehicles to honor fallen officers, and although the end couldn't be seen from the beginning, together they curved around Flathead Lake in Polson. Motorcycles went first in front of a string of police cars from across the state and Canada. Police trucks pulled boats followed by more cars, and finally, a few antique police cars brought up the end.
The road next to Linderman Elementary School was blocked off to give the officers space to park on Wednesday, May 18. In their formal uniforms, they proceeded into the school gym to attend the annual Montana Law Enforcement Memorial Ceremony.
Elementary school students from several schools walked past photos of officers near the entrance as they also moved into the gym with other community members.
"These are the fallen police officers that died protecting us," Rhonda Crowl, instructional coach, said to the students about the photos. "This is a chance to thank them and say that we appreciate them so much for giving their lives in the line of duty."
Polson Police Chief Wade Nash organized the memorial with his department this year.
"We committed to this a few years ago," he said explaining before the ceremony that a different agency hosts the event each year.
Inspector Jason Dobirstein from the Canadian Lethbridge Police Service said the Canadians came to the memorial to "show support and build relationships."
The ceremony began as the Montana Highway Patrol Honor Guard posted the colors. Bob Ricketts sang the American National Anthem and the Canadian anthem. The Chief Cliff Singers performed the Native American honor song. Chaplin Gregg Perkins of the Polson Police Department said a prayer to remember the officers that were taken too early.
Chief Nash thanked everyone for attending as he stood on the stage in front of the officers, several with their families, and community members. He asked the officers to remember to spend extra time with their families.
"As soon as you put on that vest, you don't know if you're coming home," he said. He added that he wanted to personally thank everyone that made the ultimate sacrifice. Nash took a moment during his speech to deliver roses to the family members at the memorial of fallen law enforcement officers.
Confederated Salish and Kootenai Tribal Police Chief Craig Couture was one of the people with a rose. He spoke during the memorial. He told a story about a time when he was a little boy and he asked his family why there wasn't a grandfather at his grandmother's home. It turns out that his grandfather, Alex Couture, was killed in the line of duty in 1963 as a tribal police officer, and he left behind a wife and five children.
As a boy, Chief Couture stood in front of his family with his chest out and chin up and said: "When I grow up, I'm going to become a policeman." Chief Couture's son is also carrying on the family tradition of serving in law enforcement. He said that it was important to remember the fallen.
"We pass on their names and memories to everyone that wears this uniform," he said.
Montana Attorney General Tim Fox said that the memorial was a time to pay tribute to the 128 officers that have died while on duty in Montana since the late 1800s. He said the story of officers leaving behind family "echoes down through history."
Fox said the civilian population needs to show officers support and appreciation. He said that people shouldn't generalize thousands of officers in a negative light because of the poor decisions of a few.
Fox defined officers as heroes, not to be confused with mystical creatures, that put their lives on the line to help the public.
"Heroism isn't doing extraordinary things, but rather, doing ordinary things with extraordinary dedication," he said.
He went on to say that people in law enforcement need the public's support because they see the worst things people are capable of doing every day. He added that the week set aside to celebrate law enforcement officials comes and goes, but the commitment to supporting them must continue throughout the year.
During the memorial, the names of more than 100 officers were read out with the agency they served and the year they died. Joyce Kramer, the mother of one of those officers, took to the stage. She talked about the importance of supporting the families of the fallen officers and encouraged people to support a national group called Concerns of Police Survivors (C.O.P.S).
Chaplin Perkins closed the memorial with a final prayer. He said being a law enforcement officer takes a special calling and dedication and people need to remember those that died while serving their communities.
Several agencies from all over Montana attended the memorial including the Royal Canadian Mounted Police, Alberta Police, Confederated Salish and Kootenai Tribal Police, Blackfeet Tribal Police, U.S. Customs and Border Patrol, Montana Motor Carrier Service, Montana Highway Patrol, Whitefish Police, Butte Silver Bow Police, Bozeman Police, Hamilton Police, Missoula Police, Lewis and Clark Sheriff's Office, Helena Police Department, Kalispell Police, Ronan Police, Lake County Sheriff's Office, Ravalli Sheriff's Office and more.