LCCDC to start leadership program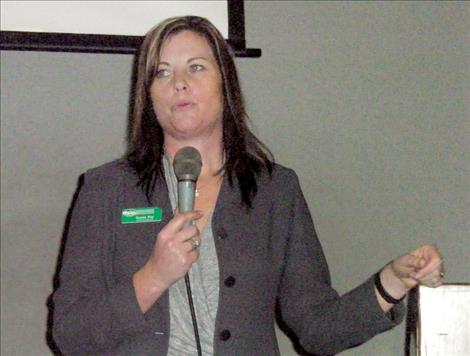 POLSON – The Lake County Community Development Corp. has a lot of irons in the fire. The non-profit regional economic development organization's Executive Director Gypsy Ray spoke about where the organization is and where it's headed at last week's Polson Chamber of Commerce luncheon at KwaTaq-Nuk Resort.
The Lake County CDC, as it is known, is working to bring a brewery to Ronan and plans to institute a leadership development program in September, Ray said. The organization is also involved in talks to expand the Lake County jail.
Ray, who has been on the job for 2.5 years, also detailed the organization's four "centers," including business development, community development, cooperative development and the Mission Mountain Food Enterprise Center.
The business development center can provide "gap" financing for small business startups through an almost $4 million loan fund.
The community development center helps with community projects, such as the 2.5-mile Skyline Drive Project in 2011-13 that utilized a $12 million Transportation Investment Generating Economic Recovery grant to improve Skyline Drive from rural Caffrey Road to First Avenue East in Polson.
Ray said Lake County CDC can manage grants "in-house" for an administration fee that typically comes when a grant is awarded.
The cooperative development center can help a business set up as a co-op by using U.S. Department of Agriculture funding. She cited the example of a poultry processing plant that the organization helped start in Hamilton.
A brewery could fall under this category too, she said, noting that Flathead Valley Community College now offers a brewmaster degree. She said such a brewery may be able to host FVCC student brewers on a rotating basis.
The Mission Mountain Food Enterprise Center is the only shared-use food processing facility in the Pacific Northwest, Ray said. Licensed by the U.S. Department of Agriculture and the U.S. Food and Drug Administration, Mission Mountain has working agreements to supply food to Polson Schools and Kalispell Regional Medical Center, for example.
Ray handed out samples of cherry jam and spicy pretzels that were made at the corporation's food processing center.
The Mustard Seed Sauce & Dressing Co. is the anchor client in the 13,000-square-foot food processing center at 407 Main St. in Ronan.
An additional 7,000 square feet are used by the organization's other three centers.
Established in 1995, the Lake County CDC also serves Sanders and Mineral counties and the Flathead Indian Reservation. Staffers occasionally make trips to Lincoln County, Ray said.