Lady Bison basketball team wins national championship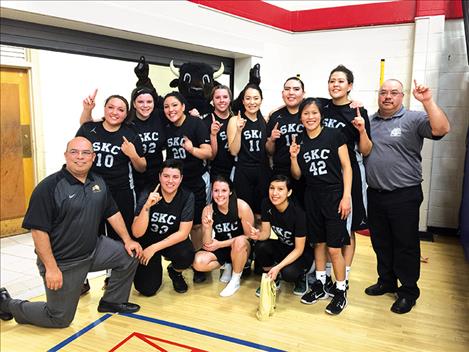 The Salish Kootenai College Lady Bison won the 36th annual AIHEC Tribal College National Basketball Championship on Sunday when they beat Stone Child College, 82-70.
Shanelle Skunkcap was named the Division I Tournament MVP. Braylee Stone, Whitney Malatare, and Kaylea Skunkcap earned all-tourney honors.
Coach Juan Perez said the team won two of three games in pool play to enter the tournament in the No. 2 seed. "We were placed in a single elimination bracket and played the No. 1 seed … Turtle Mountain. We won the game by 1 point. I don't recall the score," he said. Perez humbly received the women's Division I coach's award.
"They didn't really say what this was for," Perez said. "I assume I did a decent job during the tournament — showed sportsmanship, I guess."
The tournament, hosted by Oglala Lakota College in Rapid City, South Dakota, is part of the American Indian Higher Education Consortium, a community of the nation's 37 tribal colleges and universities.