Finley Point home lost to fire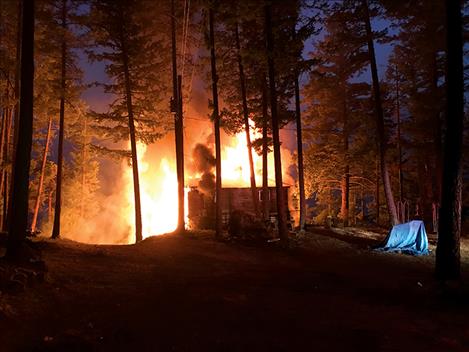 FINLEY POINT – A two-story house was consumed by fire on Aug. 9.
Finley Point/Yellow Bay Fire Department Chief Brent Burland said a call came in at 9:18 p.m. about a fire on Finley Point Lane.
When firefighters arrived, the home was fully engulfed and nearby brush and trees were on fire, he said.
Firefighters were able to extinguish the brush and tree fires and then kept the house fire from spreading further, he said.
At least three people were home at the time of the fire. There were no injuries, but the home was a total loss.
Burland was unsure what caused the fire but said it started in the home's daylight basement. Burland said there were accelerants in the home, which may explain an explosion that a neighbor reported at the time of the fire.
Firefighters and equipment from Polson, Polson Rural and Ronan fire departments also responded.