Ronan man faces assault with weapon charges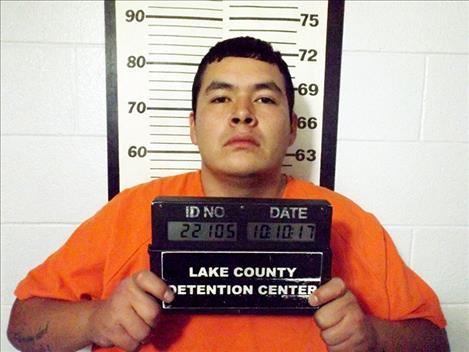 POLSON — A 21-year-old Ronan man is being held on a $100,000 bond related to charges of assault with a weapon, aggravated burglary and intimidation from two separate incidents earlier this year.
Joseph Conko Parizeau Jr. pleaded not guilty to the charges in court on Oct. 25.
Defense attorney Ashley Morigeau asked for a bond reduction to $25,000 and said Parizeau is the father of a baby about to be born. Judge James A. Manley declined to reduce two $100,000 bonds but allowed them to run concurrently.
Parizeau has been held in the Lake County Jail since Oct. 10. He was arrested that day following an incident near the junction of Terrace Lake and Timberlane roads east of Ronan when he allegedly threatened two men with an AR-15 rifle and demanded they produce tribal IDs, money and drugs.
In that case, Parizeau is charged with two counts each of assault with a weapon and intimidation.
On Feb. 5, he allegedly broke into a residence in the 1000 block of Fourth Street West in Polson, fought with a man and hit him on the back of the head with a stick.
The stick had blood on it, according to a court document.
Parizeau said the two men fought the previous day and Parizeau went there to get revenge, the court document states.
In that case, he is charged with assault with a weapon and aggravated burglary.
Trial dates for the two cases were set for April 16, 2018.