Convicted killer gets another 15 years for sexual assault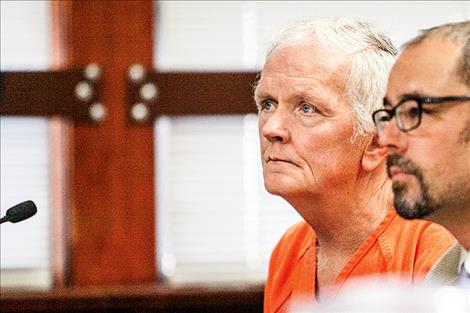 By Caleb M. Soptelean
Valley Journal
POLSON – A 61-year-old murder convict was sentenced to 15 additional years in the Montana State Prison on Dec. 20.
Donald Dean Grant, 61, was out on parole for murder when he committed sexual assault of a girl in 2006 or 2007.
Grant was convicted at trial in September of one of two sexual assault charges against two sisters.
The older sister – whom Grant was convicted of assaulting – testified Dec. 6 before Judge James A. Manley.
The girl, now 18 and in college, said the incident had many negative effects on her, including depression and self harm, the latter including two suicide attempts in high school.
"I still struggle to connect with people emotionally," she said, noting Grant "was a good family friend."
She testified at trial that she had told her mother about the incident in the winter of 2012. Her mother died later that year, deputy county attorney Ben Anciaux said.
The jury was hung on a sexual assault charge against her sister, who was four at the time of that alleged offense.
In court on Dec. 20, defense attorney Britt Cotter asked that Manley sentence Grant to four years in prison and that the sentence run concurrently with 46 years remaining on Grant's murder conviction.
Prosecuting attorney Ben Anciaux requested a 50-year sentence consecutive to the earlier conviction.
Manley gave Grant 15 years consecutive to the murder sentence. After the hearing, Lake County Sheriff's Office Capt. Joel Shearer said Grant will be going before the parole board at the Montana State Prison for a hearing on revocation of his parole for murder.
Grant was convicted at trial in December 1982 of deliberate homicide, attempted deliberate homicide and use of a dangerous weapon during commission of a crime following a shooting incident at a gravel pit south of Arlee in July of 1982.
In that incident, Grant shot and killed Jay Witteman while he was camping in a tent. Another man in the tent, Carl Warbitsky, was uninjured.
According to a court document, the two men were out-of-state motorcyclists who spoke to Grant at a restaurant parking lot about where they could camp. Grant directed them to the gravel pit and later went there in order to kill them and take a motorcycle, a court document states.