Bertsch gets 10 years for sexual assault of juvenile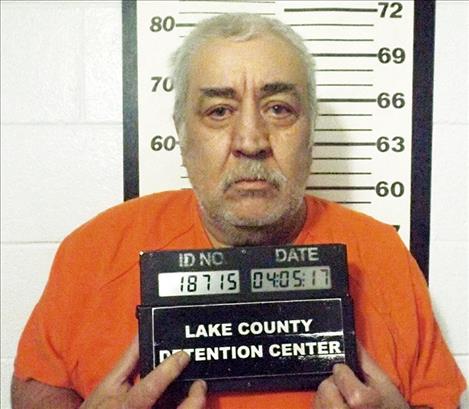 POLSON — A 63-year-old Polson man got 20 years in state prison with 10 suspended last week for sexual assault of a juvenile and indecent exposure.
Judge James A. Manley sentenced Robert Walter Bertsch in accord with a plea agreement. Manley ordered that Bertsch not be given parole during the 10-year sentence for sexual assault. He got an additional 10 years of probation for indecent exposure. The sentences will run consecutively.
"I'm very sorry and ashamed of the actions I took," Bertsch said prior to sentencing, adding that he had put himself through a mental institution and was able to stop using alcohol and drugs.
A 14-year-old girl testified prior to sentencing that Bertsch, who lived next door and was a family friend, sexually abused her since she was a little kid.
"He knew how to manipulate us," she said. "He is a skilled sexual offender. I was not his first victim."
She detailed various sexual acts that Bertsch did with her and said he also forced her to watch pornography. She said the crimes were committed over 2½ years and started when she was in third grade, or age 8.
The girl said she had recurring nightmares, became suicidal and was hospitalized twice but was too scared to tell her parents. She eventually told a school counselor.
The girl's mother also testified and said she didn't agree with some parts of the plea agreement, but didn't want the process to start over and seemingly did not want the case to go to trial.
"He should spend the rest of his life in prison," she said.
The girl's behavior changed after the crimes occurred, her mother said, noting that at first she and her husband didn't know what was wrong and were told they were spoiling her too much.
The mother said she was appalled and outraged that Bertsch's bond was lowered from $100,000 to $10,000, which enabled him to post bond. Judge Kim Christopher lowered his bond last year and ordered him to have no contact with the victim and her family. The case was then transferred to Manley on April 27, 2017 after the defense attorney filed a motion to do so and paid a $100 filing fee.
Manley ordered Bertsch to pay $18,322 in restitution for a new couch, repairs to the girl's bedroom where she put holes in the walls while acting out following the crimes, counseling and therapy sessions and travel to and from the sessions, which involve using horses, wilderness and cranial-sacral massage.
The counseling and therapies are for healing so the girl can have a productive life, her mother said, adding that she is now starting to come out of her shell.
Bertsch was given credit for 20 days in jail and designated a Tier II sex offender, which is the middle of three tiers. He had originally been charged with rape and indecent exposure, but prosecuting attorney Ben Anciaux wrote in a court document that the rape charge was mentioned by mistake.