First Interstate donates $20,000 to SKC Hydrology Department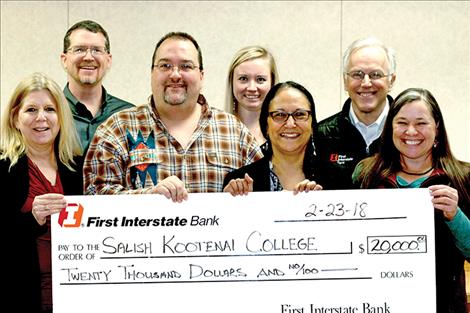 News from the Salish Kootenai College Foundation
PABLO – First Interstate BancSystem Foundation presented Salish Kootenai College (SKC) with a $20,000 check to aid in the enhancement of critical laboratory upgrades in the Hydrology program.
"Giving back to the places we call home is woven into the fabric of First Interstate's mission, vision, and values," said Shad Hupka, commercial bank manager for First Interstate Bank in Polson. "We are proud to support the mission and efforts of the Salish Kootenai College, its students, and dedicated staff— whose tireless efforts make such a positive impact to our community."
Salish Kootenai College's Natural Resource Labs serve all three Natural Resource Degree Programs at SKC (Hydrology, Wildlife and Fisheries, and Forestry). The Hydrology Program is one of only eight water resource-related bachelor's degree programs in the United States. Both the Hydrology and Wildlife and Fisheries programs at SKC are the only such programs offered at a tribal college or university. Hydrology Department Head Dr. Antony Berthelote and other Natural Resource faculty work directly with some of the world's top scientific labs and scientists. All three of SKC's Natural Resource Bachelor of Science degrees have robust science curriculum creating scientists that have a unique ability to concurrently give voice to national, regional, and tribal concerns. SKC's Hydrology graduates maintain a 100 percent employment rate.
For more information about Salish Kootenai College visit online at skc.edu.